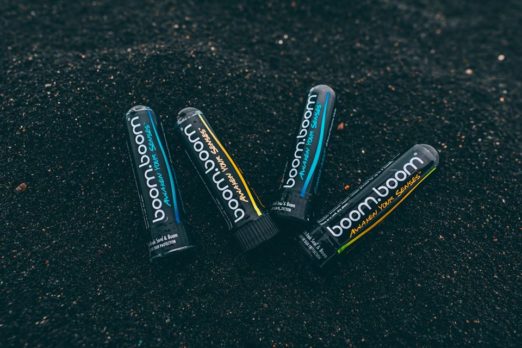 Chelsea and John Pinto look for the sweet smell of success when they pitch BoomBoom , their portable aromatherapy energy inhaler, in Shark Tank episode 1004. Boom Boom inhalers are about the size of a Vicks inhaler. Each tube is infused with menthol,  "essential oils and stimulating scents." Basically you shove the inhaler up your nose and sniff for a burst of energy.
There are five flavors: Winter Mint, Melon Drop, Tropical Rush, Cinnamint and Berry Breeze. Each tube costs about seven bucks. Despite the obvious benefit of clearing out the nasal passages, BoomBoom is supposed to give you a burst of energy – like an energy drink.
The Pintos saw this phenomena while traveling in Asia. Everywhere they went, people had inhalers for a burst of energy. They picked some of these "Wonder vapors" up in their travels and started developing BoomBoom when they returned to the states. They hope to create a new category in the energy space – one that will replace energy drinks. They're looking for a Shark to help them on that journey.
My Take on BoomBoom
When I first saw this product, I immediately thought of a Vicks inhaler. We have one in our medicine cabinet for clearing out stuffy noses during cold and flu season. Many reviews say the product does a good job clearing out the sinuses. With much better sounding flavors than Vicks, that's a big selling point.
As far as calling itself an "energy inhaler," my first thought was a popular "powdered" stimulant from the eighties people put up their nose. I also recall a product (now defunct) called Aerolife. It was a caffeine inhaler. Caffeine, in powdered form, got orally inhaled for an energy burst. The company got shut down by the FDA because they questioned the effects of inhaling caffeine.
Boom Boom is basically fruity flavored menthol. I don't know how much of a real energy boost it will give you other than a placebo effect. They certainly need to be careful about making claims. As for me, I may try one out the next time I need to refill my Vicks inhaler, but I can't see me carrying one around for energy. I'll stick to coffee.
Will Sharks Smell a Deal?
I'm thinking the Sharks pass on this for a couple of reasons. The first is the aforementioned issues the FDA had with AeroLife. Making energy claims needs some science to back it up. Essential oils might smell nice, clear out your sinuses and give you a sense of well-being, but making claims is tricky business.
Another reason is this product requires a cultural paradigm shift. Americans are used to energy drinks and energy bars – things you ingest. Inhaling energy is often associated witht the aforementioned powdered substances popular in the eighties. While it may e a viable delivery option, it requires some cultural re-education and the Sharks don't want to do that.
Unless Boom Boom has sales numbers that are through the roof, their chances of getting a deal stinks.