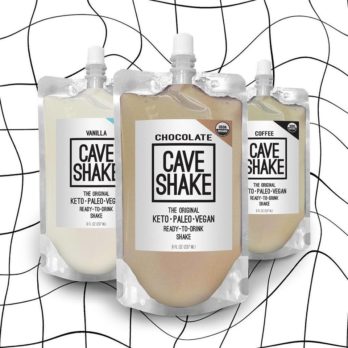 Holly Heath and Billie Cavallaro pitch Cave Shakes, their vegan meal replacement shakes, in Shark Tank episode 1004. Cave Shakes use coconut milk as its base ingredient. They're drinkable at room temperature, but when you chill them, they thicken to a near ice cream consistency. In addition to coconut milk, Cave Shakes contain natural sugars, stevia, salt, and guar gum. There are four flavors: cocoa, espresso, vanilla bean and the newly added strawberry.
Cave Shakes give a nod to cave men and women as the product is vegan, paleo and keto diet friendly. Each 8 ounce serving has a whopping 450 calories and 45 grams of fat. As a meal replacement, that's OK, but it's a pretty rich snack. They're high in fat because the keto diet makes your body get its calories from fat. Keto and Paleo diets are trendy these days, but the food isn't always tasty. Reviews indicate these shakes pass the taste test.
So far, they distribute the product online and at a variety of southern California Whole Foods markets. In September 2018, they partnered with L.A. Libations, "a next generation beverage creator and incubator specializing in creating and incubating early-stage beverage brands at retail. L.A. Libations is the key innovation partner of The Coca-Cola Company, which is also a minority owner in the company." This partnership gives them access to nationwide distribution. L.A. Libations has many successful brands under its belt. With a deal like this, Heath and Cavallaro might not need a Shark.
My Take on Cave Shakes
I'm not big into meal replacement shakes in general, so I doubt this product is for me. I generally eat a carb free diet three out of four weeks of every month anyway. I have a friend who recently went on a Keto diet and she actually tried these. She said they were good as a meal replacement. At about eight bucks a serving, that's not a terribly expensive meal.
Since I'm not going on a Keto diet any time soon, I am out.
Do Sharks Like Caves?
The L.A. Libations deal makes me think the Sharks passed on this. I see no evidence of a Shark's involvement with L.A. Libations, so therefore the Sharks probably passed. If a Shark had invested, that news would break after the show. The L.A. Libations people may have helped Cave Shakes get on the show for PR, but I don't see a Shark taking a bite out of this meal replacement.