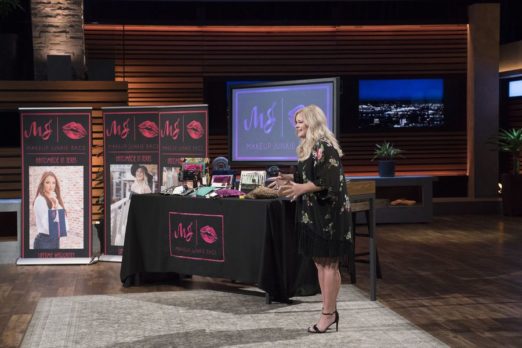 Meredith Jurica wants some cash from a Shark in her Make Up Junkie Bags when she pitches in episode 1010. Her bags are fashionable and functional and they're designed with the Make Up Junkie in mind. MJ created her first bags out of need for something better.
What MJ found is most make up bags that looked good didn't have waterproof interiors. Many bags were too big and you couldn't easily find your make up. She set out to find a solution. Her bags lie flat, but they have an extra big, medial zipper that stays open and keeps the bag "standing" upright. This makes it easier to get at the make up and prevents it from spilling all over the place.
The women who own them rave about them. Some use it as a make up bag while others use it as a clutch purse for a night out. It can handle make up, plus a cell phone and some other items.
MJ doesn't fool around either: the bag design and logo are patented and trademarked. The bags come in a wide variety of colors and patterns and cost about $32 each Make Up Junkie Bags sell on Amazon and the company website, but MJ is actively seeking wholesale accounts. Maybe she's looking for a Shark's help with that.
Make Up Junkie Information
Video

Posts about Make Up Junkie on Shark Tank Blog
Make Up Junkie Shark Tank Recap
Meredith enters seeking $200,000 for 15% of the business. After introducing the product and handing out samples, Meredith explains she is debt free and has $1.5 million in sales over the last year and a half. She wants a Shark so she can up production from her current 6,000 bags per month.
There are three offers. The first is from Lori for a $200,000 loan for 5% plus a $1 royalty per bag in perpetuity. Kevin then offers $200,000 for 3% plus a $1.50 royalty per bag until he is paid $750,000. Sara offers $200,000 for a $1 per bag royalty until she is re-paid. Meredith accepts Lori's offer after Lori agrees to drop the royalty to %0.75 per bag.
Make Up Junkie Shark Tank Update
The Shark Tank Blog constantly provides updates and follow-ups about entrepreneurs who have appeared on the Shark Tank TV show. The deal with Lori never closed. Apparently, Lori wanted to manufacture overseas and Meredith wanted to keep her operation in Texas. As of June, 2021, Meredith has her products in over 2000 stores nationwide. Annual revenues are in the neighborhood of $2 million.