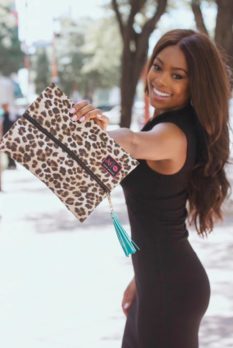 Meredith Jurica and her Makeup Junkie Bags are yet another successful product for women to appear in Shark Tank episode 1010. Jurica, a speech pathologist turned entrepreneur, is a makeup junkie. She hated the makeup bags that were available to her because they weren't easy to clean and literally wouldn't stand up to the demands she put on them. Her bags are designed to lay flat on the table and zip down the middle so it gapes open, allowing for easy access. The interior of the bags are waterproof and washable so spills won't ruin the bag inside or out.
While the bags are a hit, her story is even better. Jurica and her husband started making the bags at their Houston area kitchen table in 2016. Her mother-in-law taught her to sew and helped out with the initial stages. Jurica got good advice from the outset and got both patents and trademarks for her product. When orders started building up, she went door to door to area seamstresses and asked if they'd work on a "per bag" basis. To this day, all her bags are still "Handmade in Texas."
She sank all profits back into the business and after just four months in business, she had to rent space. Meredith is driven and quickly learned the wholesaling side of the business. She knocked on a lot of doors and it paid off. Makeup Junkie bags are in over 2000 stores nationwide. Part of her wholesale success comes from her low risk, buy back guarantee. By cultivating relationships, Makeup Junkie is the only business of its kind that did over one million in sales in its first year. In just two years in business, she sold over 100,000 bags and employs 70 people.
Rapid growth is exciting, but it comes with challenges. Jurica grew quickly by being tenacious, but now she'd like a Shark's tenacity to help her grow more.
My Take on Makeup Junkie Bags
While I won't be a customer, I admire Meredith's drive. She does plan on coming out with a "man junk" bag, but it isn't available yet. As far as makeup goes, I don't use it. My wife doesn't use much ether, so it's not a product that would impact my life.
The story is amazing. This woman went out and built her business on sheer determination. She also unwittingly branded herself well by pushing her wholesale business. That helped her online retail business grow, too. Women aren't giving up their makeup anytime soon, so the business has room to grow. I think Meredith is a winner.
Will Sharks Make Up a Deal?
With another woman-centric product, I expect activity from all the Sharkettes on this one too. Mr. Wonderful, a big fan of women run businesses, may also make a play. The bags fit into his "something wonderful platform," too. He could throw a bid out. I think Meredith leaves with a deal. She's everything the Sharks like in an entrepreneur.