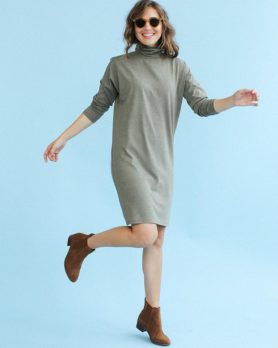 Whitney Lundeen created Sonnet James "play dresses" so she could look fashionable while rough-housing with her two young boys. She freely admits "playing with my sons was not something that came naturally to me." The former interior designer found herself divorced and in need of a job after the birth of her second son. Rather than return to the corporate world of interior design, she decided to act on an idea she had.
The idea was making stylish, durable, machine washable dresses for moms. She was also sick of just throwing on sweatpants everyday to take care of her boys. That's how and why she started Sonnet James. The company name comes from the names she would have named her children had they been girls. The brand is for girls/women after all.
The birth of the business came on New Year's Eve in 2012. She told her family she was going to make and sell ten play dresses. Her brother suggested she boost the goal to 100. Since she didn't really know how to sew, this was a bit overwhelming. Whitney was determined: she set short and long-term goals and got to work. She learned to sew, enlisted the help of her sister to take photos of prototype dresses, built a website and reached out to fashion bloggers. When she pushed the "publish" button on her website, she didn't know what to expect.
There was a Need for Play Dresses
As it turns out, the concept of play dresses was a hit. She racked up 150 orders! The problem was, she had no inventory, only her prototypes. Needless to say, she freaked out and considered shutting down the website and refunding everyone's money. Once again, her brother stepped in and talked her out of it. With no way to produce the dresses, she found a small dressmaker in Los Angeles who agreed to produce the dresses for her. The problem was, she sold them for $78 each and had to pay the dressmaker $95 each. It was a net loss of over $2500. That's not a good way to start a business!
Undaunted, Whitney did a Kickstarter campaign and raised $58,245. She didn't want to work with the LA company again, so she sought out clothing manufacturers in San Francisco, where she lives. After a fairly discouraging search process, she eventually struck a deal with a San Francisco area apparel manufacturer. Initially, they didn't want her business – but she talked them into it. Even though her manufacturer's prices are higher than others, she's stuck with them because they took a chance on her.
Since 2013, Whitney claims the business grew 200% a year. A little math tells me that means she did almost 2 million dollars in sales last year. Now, she's looking to partner up with a Shark (or a Sharkette) when she tells her story in episode 1010.
My Take on Sonnet James
I'm a guy, so I'm not going to buy any dresses anytime soon. I do like it when my wife wears a dress though. I showed her the Sonnet James designs and she liked them. She also liked the idea of "play dresses." My wife is a casual dresser and these styles are right up her alley.
Based on Sonnet James' sales figures, a lot of other women like the designs too. I think Ms. Lundeen is onto something big and she'll only get bigger with a Sharks' help. I'm in.
Will Sharks Want to Play in these Dresses?
Whitney lucked out when she landed in front of this particular panel of Sharks and Sharkettes. Her dresses appeal to the masses and are reasonably priced – something Lori likes. Her sales are strong – something Barbara (and all the Sharks) likes. Her story is very reminiscent of Sara Blakely's too, so she'll resonate with her.
I am predicting that the Sharkettes will get in a bidding war on this one. The only thing that could screw it up for Lundeen is if she's overly loyal to her San Francisco manufacturer. If she's willing to move production to a Shark(ette) suggested facility to bump up margins, she'll leave with a deal.