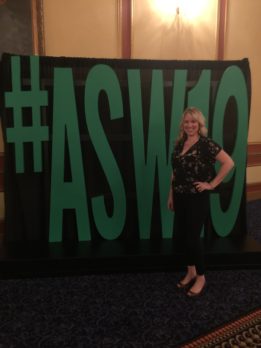 Sara Margulis of Honeyfund spoke at Affiliate Summit West 2019 on January 7, 2019. The title of her talk was "Keep Calm and Crush Your Goals." In her talk, she discussed her personal experiences as an entrepreneur dealing with stress. After she and her husband, Josh, launched Honeyfund in 2006 and went full-time in 2008, they attracted the attention of the Shark Tank producers. It seems someone on staff used their crowdfunding for honeymoon cash service and thought it would make for good TV. When they appeared on the show in October, 2014, they did a deal with Mr. Wonderful. After that happened, Sara said their lives became "full."
Sara and Josh had a successful business, a young family, a certain level of fame and a fair amount of personal wealth. They should have been on top of the world. Sara confessed they were not. She "became a student of stress, not a student of life." Her constant state of stress affected every aspect of her being and made doing business difficult, so she set out to relieve herself of her stress.
Tools to Eliminate Stress
Honeyfund is an affiliate product, meaning people who refer Honeyfund through a link get a small commission for referring the company. That's what brought Sara to Affiliate Summit West. She wanted to share her tools for eliminating stress, which in turn makes it easier to "crush your goals." She read a lot of books and was influenced by the writings and advice of renowned psychologist Jordan B. Peterson. She realized that in order to be truly successful, you need to get focused, raise your energy, and work for the soul.
"Formal education will make you a living; self-education will make you a fortune." Jim Rohn.
While she likes Rohn's quote, it is Peterson's teachings that drove her "recovery" from stress. He encourages self-examination to find your "big why." Once you find that, you need to figure out what you need to do to improve. This begins with writing down your dream goals and vision.
Takeaway from Affiliate Summit West
Many of the sessions at Affiliate Summit West deal with technical material, marketing trends, "how-to" talks and other industry related issues. Sara's talk dealt with how to deal with all those things without coming unhinged. What it all came down to is people need to take time to focus. To be truly successful at anything, you need to eat and sleep well, drink water, exercise and get lots of fresh air and sunshine.
You also need to plan. As Mr. Wonderful says: "a bad plan is better than no plan at all." If you want to know more about how Sara beat stress, check out Peterson's book 12 Rules for Life: An Antidote to Chaos
What's Up With Honeyfund
I actually attended several dinners and parties with Sara over the course of Affiliate Summit West. We chatted about Honeyfund and she gave me a little update. Mr. Wonderful is still very much involved. He periodically gives them "a little push." They recently acquired their one millionth customer which put their total funding to $600 million.
They employ a total of 13 people now, including themselves. While the business is thriving, they are currently in the process of looking for another financial partner to further accelerate their growth. Whatever the future holds for Sara and Josh, it won't include stress.