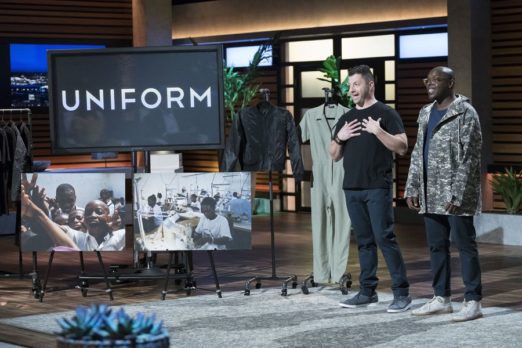 Adam Butlein and Chid Liberty want to provide school uniforms for African children while outfitting Americans with chic urban wear. Their company, Uniform, uses Liberian women as their labor force. Liberty, a native of Liberia who immigrated to the USA at a young age, is committed to helping people in his native land. He, along with Butlein, will show the Sharks how their business can make money while making the world a better place.
The commitment extends to the children of Liberia. For every sale made, they donate school uniforms for the children. All African children are required to wear a uniform to school. Since uniforms are out of the budget of most African families, over 40% of kids don't attend school. By providing kids with free uniforms, he should help up the attendance rate.
The products they sell vary from tee shirts to dresses to jackets and pants. All apparel is manufactured according to African Fair Trade–certified standards. Originally, they sold product as a "subscription box" type service, but now they are selling "à la carte." Rapper and fashion designer A$AP Ferg helps with the designs. They likely want a Shark to help them grow the business and brand so they can buy more uniforms for the kids.
My Take on Uniforms
The clothes look good. It's basically tee shirts for the most part. There are women's dresses and jump suits and military style shirts too, but it's a small line for now. I probably wouldn't buy this stuff if it didn't have the social cause behind it. Eighteen bucks for a tee-shirt isn't too expensive, but it's not something that jumps out at me. I think they need to expand the line to more styles and types of clothing to make a go of it as a business.
Will a Shark Suit up and Invest?
I think the Sharks will like the message. They'll like the business more if there are sales! Liberty did raise a little over $230,000 in 2015 on Kickstarter, so they must have some sales, but that's going on four years ago. Of course this episode was "in the can" for a year, but even a three-year lag from Kickstarter is enough to raise an eyebrow or two.
This business is a branding exercise. Daymond is the obvious target for a company like this. I don't think any of the other Sharks will bite on this, though they'll commend the men for their social commitment.