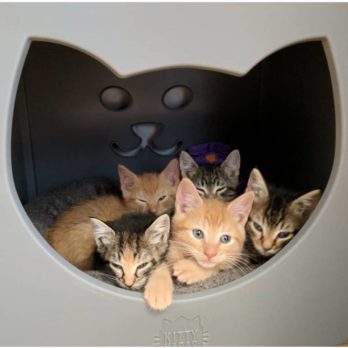 Husband and wife "catrepreneurs" Rusty Niedwick and Nikki Linn made their first Kitty Kasa out of necessity. Linn is a cat lover extraordinaire who left the radio business after divorcing her first husband. She got out of the radio business and opened a cat shelter. For twenty years, Linn's shelter – the ARNI Foundation – operated in Daytona Beach. In that time she rescued over 28,000 animals. In 2017, after hurricane Irma caused some damage, she moved her shelter to Colorado to be near her father. The shelter is actually named after her late mother. In Daytona, SaveARescue.org took over where Nikki left off.
Back in 2007, Nikki and Rusty were just starting their relationship. They're both animal lovers and apparently they hit it off. This is also when the Kitty Kasa was first created. A ringworm outbreak at the shelter made them throw out all their carpet covered "cat apartments." Rusty got to work on something that could be easily cleaned and sanitized. Initially, they used their Kitty Kasas in the shelter. Soon, they started selling in their thrift shop and on their website. It was a great way to raise funds for the shelters.
The Kitty Kasa is a modular unit that stacks and comes in bright, funky colors. There's a unit for a bed, a scratching post, storage and more. The possibilities and combinations are virtually endless. Priced at $40-$70, the Kitty Kasa is now sold at Target, Wal-Mart and on Amazon. They're doing so well, they have a 'Shelter Re-Do' program. Every month, they choose a shelter in need and remodel it.
While Rusty and Nikki will always continue rescuing pets, they'd like to grow their business too. In Shark Tank episode 1010, they crash into a stack of Kitty Kasas on a motorcycle – to demonstrate their indestructibility. The Sharks will like their commitment to rescuing animals, but will they like their business?
My Take on the Kitty Kasa
I think this is a cool idea. I'm a dog guy, so no cat stuff for me. I do have experience with cats though. When we lived in Massachusetts, we had a lot of feral cats in our woods. Every spring, we'd find kittens in the yard and I'd grab them and bring them to a local cat shelter. Finally, they sent someone to trap the momma and poppa cats. They took them, neutered them, then returned them to the wild to live out their lives without making more kitties. After that, we stopped finding spring kittens.
In my visits to the shelter, I saw how many abandoned cats there were. Every dog I've ever owned, including the current resident, Zoey, was adopted or rescued, so I appreciate Rusty and Nikki's work. If they're as dedicated to their business as they are to saving animals, Kitty Kasa will be a big success.
Will Sharks Like these Kasas?
This seems like a mature business, so I'm not sure what they want with a Shark. They appear to be doing quite well. The objection they may face is they're more dedicated to the shelter than the business. While there's no arguing the commitment they have to saving animals, the Sharks want to see business focus.
I am not sure if they get a bid, but my gut tells me they don't. I can't see Mark or Mr. Wonderful bidding. Even though Barbara is in real estate, these aren't the kind of houses she's interested in. The only person I can see bidding is Lori, but she's a long shot.