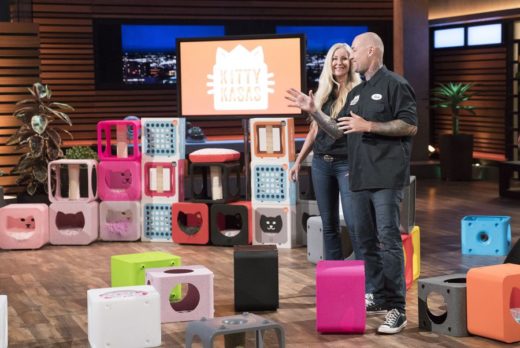 Nikki Linn and Rusty Niedwick, creators of Kitty Kasas, pitch their modular cat homes in Shark Tank episode 1010. Nikki is the founder of the Arni Foundation, a no-kill cat shelter originally based in Daytona Beach that rescued over 27,000 cats and dogs. She moved the facility, which was taken over by another group, to Colorado in 2017.
Rusty began working with Nikki at the shelter after they met. The pair traveled the world saving animals and Rusty started building what would become Kitty Kasas for their shelter pets. They wanted easy to clean, fun and functional cat furniture for their shelter that didn't look like it came from the scrap heap. When people visiting the shelter started asking them about making Kitty Kasas for their cats, Nikki and Rusty said "we'll get right on that," and they did!
Kitty Kasas are modular, stackable cat beds and gyms that are indestructible, easy to clean, and weather resistant. They come in a wide variety of colors and you can even mount them on a wall. The Bedroom model comes with a comfy pillow so kitty can have his own space (they also sell replacement pillows). The Gym unit has a scratching post. Bedroom units cost $40 while the gym unit is $70. The business donates a portion of each sale to a variety of no-kill pet shelters in keeping with the vision of the Arni Foundation.
While the products are available on Amazon and a variety of pet retailers, Nikki and Rusty likely want more distribution and the rapid growth a Shark brings to the table.
Kitty Kasas Company Information
Video

Posts about Kitty Kasas on Shark Tank Blog
Kitty Kasas Shark Tank Recap
Nikki and Rusty enter seeking $200,000 for 20%  of their business. They reveal an overseas manufacturer stole their idea and they are pursuing legal action. They want help on the legal side of things plus assistance with sales and marketing, website redesign and social media marketing.
After a considerable amount of back and forth, Kevin offers $200,000 for 33.3%. Lori makes the same offer but Nikki and Rusty counter with 30% and Lori does the deal. I predicted Lori was a long shot to do a deal with this company.
Kitty Kasas Shark Tank Update
The Shark Tank Blog constantly provides updates and follow-ups about entrepreneurs who have appeared on the Shark Tank TV show. It doesn't appear the deal closed with Lori as the business isn't listed in her Shark Tank portfolio. Even so, Kitty Kasas has amped up its Amazon presence and is now available in Petco. The company was acquired in July, 2019 by Jolly Pets, an Ohio Dog Toy manufacturer, for an undisclosed amount. The products are still on Amazon and in Petco.