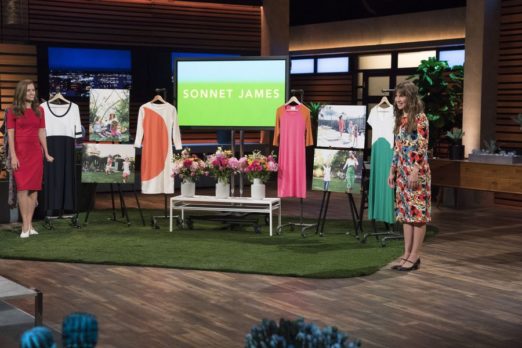 Whitney Lundeen wants a deal to grow Sonnet James, her line of "play dresses" for moms, in Shark Tank episode 1010. Lundeen is a designer who, when faced with her two young boys, still wanted to be fashionable while playing. She never wore her fancy dresses while out with her boys because she didn't want to ruin them. Instead, she re-purposed her maternity clothes as "play clothes."
Still, she wanted something fashionable, yet durable enough for rough and tumble play. She made her own dresses out of spandex. On New Year's Day, 2013, Lundeen resolved to make her own dress line and she designed 12 different styles of what would become Sonnet James dresses. Next she sourced fabrics and started making dresses for moms.
She got her business going back in August 2013 with a successful Kickstarter campaign that raised $58,245. That's when Sonnet James became a real business. The dresses are playful and durable. They have the classic lines of designer dresses, but they're safe for "play clothes." Sonnet James designs cost between $100-$160 and come with a three-day, no hassle try-on guarantee. Lundeen likely wants a Sharks help going big. Will a Shark like this dress?
Company Information
Video

Posts about Sonnet James on Shark Tank Blog
Sonnet James Shark Tank Recap
Whitney enters seeking $350,000 for 25% of her business. After introducing her business and handing out samples, she reveals she had $1.2 million in sales last year. Her margins are huge: 75% and she has a low return rate of just 23% (30% is the online average for clothing). Kevin O'Leary gets a few tears in his eyes when he hears her story about dealing with addiction and abuse in her home growing up. He tells her it's the best clothing pitch he's heard in ten years. Sara Blakely is very impressed with Whitney and offers her $350,000 for 25% – exactly what she asked for. Whitney immediately accepts.
Sonnet James Shark Tank Update
The Shark Tank Blog constantly provides updates and follow-ups about entrepreneurs who have appeared on the Shark Tank TV show. Sonnet James saw heavy web traffic and dramatic sales after airing. It is unclear as of May, 2019 if the deal with Sara Blakely closed. We will update when more information is available.
The deal with Sara did close and the company, as of November, 2023, is still in business with $6 million in annual revenue.