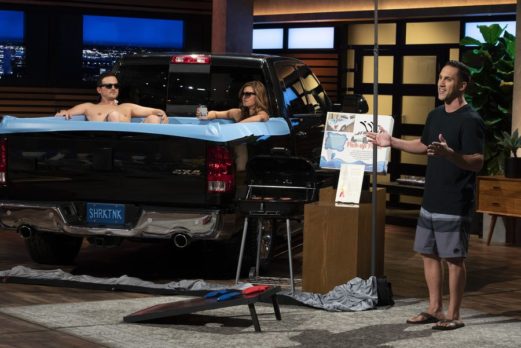 Tommy Prestella hopes to pick up an investor for his Pick Up Pools when he pitches the Sharks in episode 1014. He came up with the idea in the summer of 2014 while stationed at Little Rock Air Force Base in Arkansas. It was a record breaking hot summer and his daughter wanted to swim in a pool. Tommy got a tarp and a bunch of bungee cords, lined his pick up truck bed and filled it with water.
People have been making makeshift Pickup Pools for years, but Tommy found the tarps leaked and were not suited to the task. He googled "pick up truck pools" and found there weren't any ready-made products, so he designed one. He gets the vinyl from Virginia and the pools get assembled in California. In the summer of 2015, he ordered 20 pools from his manufacturers. He sold 18 and kept two for demonstrations.
As an active duty Air Force Pilot, Tommy needs to leave the country for extended periods of time. His sister and business partner Diana keeps thing running in his absence. Since starting the business, they've sold pools all over the world. They sell online at Amazon, but they're probably looking to get broader distribution – with a Shark's help.
Pick Up Pools Company Information
Video

Posts about Pick Up Pools on Shark Tank Blog
Pickup Pools Truck Bed Pool Liner
Pick Up Pools Shark Tank Recap
Tommy enters seeking $100,000 for 25% of his business. The Sharks get a chuckle out of the model pool onstage as Tommy explains the product. Sales are low – only $7060 year to date and $12,000 lifetime. The reason for his low sales are he's still active in the Army which takes a lot of his time. His first order sold out back in 2014, but his manufacturer went out of business for retirement. In 2017, he got deployed to an "undisclosed location" in Africa and brought on his sister as a partner.
Tom's sister found a new manufacturer and will run the company for the next eight years while Tom is deployed. They need the money to get their costs down and juice up the website. They currently manufacture two sizes which cost $110 and $117 and sell for $199 and $209. Mark asks about getting costs down and Tommy is confident they can do it. Lori says she's unfamiliar with the market and she goes out. Robert doesn't think there's a business and he goes out. Kevin goes out citing the lack of sales. Barbara makes a contingency offer: she wants to meet the sister and they MUST get the manufacturing cost below $100. Mark offers $100,000 for 33.3% and says Tommy shouldn't try to negotiate. Tommy accepts Mark's offer since Mark was so enthusiastic about the product.
Pick Up Pools Shark Tank Update
The Shark Tank Blog constantly provides updates and follow-ups about entrepreneurs who have appeared on the Shark Tank TV show. The deal with Mark closed and the business is listed on his website. Pickup Pools are available on Amazon and from the company website. They also added a third pool size and now have them for short bed, standard and long bed trucks.
As of December, 2021, they are still in business, though some knock-offs are appearing online. Reliable revenue figures are unavailable. In an August, 2022, update search, I found the website to be down and social media dark. It looks like they are out of business.