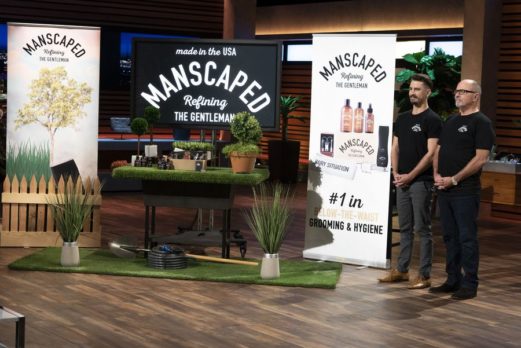 Father and son team Steve and Josh King hope to get a deal for Manscaped, their products for male grooming "below the belt," in Shark Tank episode 1004. Manscaping is literally when a guy trims his pubic hair or styles it fashionably. Manscaped is the only branded line of products specifically geared for this purpose. Their website claims 80% of women think all men should do a little manscaping.
Their products aren't just for below the belt – they can be used anywhere male hair gets a bit unruly. The main product is The Lawnmower 2.0 (which replaced The Lawnmower). It's a shaving/sculpting tool that's "an electric trimmer worthy of getting up close and personal with your family jewels." Unlike a typical electric trimmer for beards, it has "SkinSafe technology that protects you from accidental nicks." It works on beards, too.
Manscaped also sells The Plow, a single blade razor that is effective on coarse, curly hair. They also sell nail grooming items, colognes, hair conditioners, even deodorant for the "nether regions." Their top seller is The Perfect Package which includes a Lawnmower, a Plow, a bottle of conditioner, a bottle of deodorant and three disposable shaving mats.
The Kings started the company in 2017 with a $400K investment from an angel investor. Since then they've received quite a bit of press from men's magazines like GQ and Playboy. They hope a new awareness of good grooming everywhere on the male body will entice a Shark to become their next "angel." Will a Shark want to get into the Manscaping business?
Manscaped Company Information
Video

Posts about Manscaped on Shark Tank Blog
ManScaped – Manscaping Products
Manscaped Shark Tank Recap
Steve and Josh enter the Shark Tank seeking $500,000 for 7% of their business. They give their pitch and tell their story as the Sharks have a chuckle. When they're finished, they hand out samples. They say 73% of men manscape. 2017 sales were $1.5 million and lost $133,000. The kit costs $12 to make and sells for $51. Customer acquisition is $16, they're plowing all their profits into paid media. For every dollar they spend, they get $2.50 back.
Kevin thinks the model isn't nailed down yet, he's out. Charles never manscaped; he's out. Robert has done manscaping –  he offers $500,000 for 35%. Lori likes it, Mark says he'll go in with her just to see her sell it on QVC. They offer $500,000 for 25%. Robert goes out. Josh counters at 20% and Mark declines. They take the deal.
Manscaped Shark Tank Update
The Shark Tank Blog constantly provides updates and follow-ups about entrepreneurs who have appeared on the Shark Tank TV show. This deal with Mark and Lori never closed. As it turns out, they didn't need a Shark. Manscaped became a global brand. They sponsor the San Francisco 49ers and UFC fights. As of 2021, Bloomberg reported they were doing $100 million in annual sales and were considering becoming acquired by undisclosed sources.
Bloomberg was right. In November, 2021, the company "entered into a definitive business combination agreement with Bright Lights Acquisition Corp. and will become a publicly traded company on the NASDAQ exchange under the symbol 'MANS' in the first quarter of 2022." Yearly revenue is $285 million and the public company will be worth $1 billion and completely debt free at the time the stock is issued. This makes Manscaped one of the most successful publicly traded companies to ever appear on Shark Tank.
Also in November, 2021, the company extended its agreement to continue to sponsor UFC fights for three more year. The company introduce their 4.0 version of their trimmers and added an "Ultra Premium Collection" that includes body wash, shampoo and conditioner, deodorant, hydrating body spray and lip balm.
As of July, 2022, they have not gone public yet, but they conducted an investor relations meeting in June, 2022. Also in July, they announced Pete Davidson of Saturday Night Live fame as a company spokesman and investor. They reported revenue for 2021 at $297.2 million. As of November, 2022, trailing 12 month revenue is close to $500 million. Apparently, the deal with Bright Lights was nixed and the company did a Series B funding round for an undisclosed amount. As of August, 2023, the company disclosed $126 million in revenue for 2022.
I will update this page as more information becomes available.