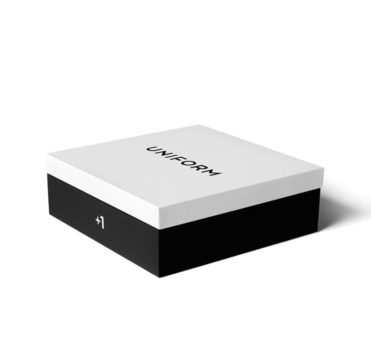 Adam Butlein and Chid Liberty pitch Uniform, their socially conscious clothing subscription service, in Shark Tank episode 923. Liberty left Liberia as a young child and lived the American Dream growing up. Chid worked in Silicon Valley for many years and returned to his native country in 2009. He didn't like what he saw and co-founded Liberty & Justice, Africa's first Fair Trade–certified apparel manufacturer. He also noticed kids in Liberia weren't attending school because school uniforms were too expensive.
His entrepreneurial spirit, coupled with a need to help his fellow Liberians, led him to create Uniform. What the company does is send clothing – anything from T-shirts to dresses to bomber jackets – to customers on a monthly subscription basis. All the clothing is produced in Liberia by Liberian women with fair trade African materials. Liberty enlists the services of rapper and fashion designer A$AP Ferg for design and marketing. For every monthly customer, a Liberian child gets a free school uniform. School uniforms, required in all African schools, are the biggest single reason many children do not attend school. They're too expensive for many impoverished families.
The company got started back in 2015 by raising $230,059 on Kickstarter. They touted their products as the "world's softest tee shirt." The vision is for UNIFORM is to be a worldwide clothing brand. Liberty hopes the "ethical production process" will help grow the brand. He also hopes a Shark will lend a hand.
Uniform Company Information
Video

Posts about Uniform on Shark Tank Blog
Uniform Shark Tank Recap
Adam and Chid enter the Shark Tank seeking $300,000 for 10% equity in their business. They have samples of the clothing hanging on a rack as they give their pitch. When they're done they hand out samples. They tell the Sharks they were doing $40 million a year in sales with their Liberty and Justice brand until the 2014 Ebola outbreak shut them down. In 2016, when things had cleared up, they had a lot of leftover fabric, so they decided to make school uniforms out of them. That's what led to this business model.
While the Sharks liked their social mission, none were keen on the business. Daymond did offer to mentor them, like he did with Moziah Bridges of Mo's Bows.
Uniform Shark Tank Update
The Shark Tank Blog constantly provides updates and follow-ups about entrepreneurs who have appeared on the Shark Tank TV show. As of June, 2021, Uniform has a children's clothing line in Target stores. The company is still in business and has some clothing in Bloomingdales. Butlein started another business which is kind of cool: LiteZilla. It's a giant 5 foot by 8 foot Lite Brite. As of October, 2022, the clothing is no longer in Target or Bloomingdales.