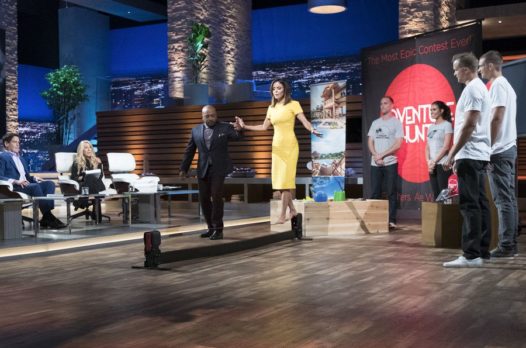 Sean and Jared Bingham are looking for treasure in the Tank when they pitch Adventure Hunt in episode 923. Adventure Hunt is the brothers' treasure hunting experience. They organize these hunts all over the country.
Many people compare the experience to the Amazing Race. They bury treasure chests in a community and people compete in teams of two to find the chest. At 9 am on the day of the hunt, teams get an adventure list on the accompanying app. Teams complete each task to find clues and the first team to reach a certain number of points. Tasks range from eating something without hands to rock climbing. Once they reach a certain amount of points for the tasks, a treasure map opens in the app and teams follow the clues to get the treasure chest. A chest includes two GoPro cameras, a trip for two to Red Frog resort in Panama and more.
The company touts the overall  experience as perfect for "corporate events, birthday parties, youth groups, scavenger hunts, geo-caching, team-building exercises" and more. They have over 150 events scheduled for 2019 and they're seeking corporate sponsorships and they're actively seeking franchises and investors. Sean and Jared hope a Shark will join the hunt and invest.
Adventure Hunt Company Information
Video

Posts about Adventure Hunt on Shark Tank Blog
Adventure Hunts – Treasure Hunt Experiences
Adventure Hunt Shark Tank Recap
Sean and Jared enter the Shark Tank seeking $150,000 for 10% of their business. They tell their story and explain their business. An example of a Treasure Hunt runs on a TV screen onstage, then two actors with Sean and Jared onstage conduct a demonstration. The demo that caught the Sharks' attention was when one of their actors onstage with them gives the other actor a wedgie. They invite the Sharks onstage to do some obstacles. When the Sharks return to their seats, Robert asks about sales: they have $769,000 in sales after 18 months in the business. They want a Shark that can help them with marketing.
Bethenny likes the guys and there is a little flirting going on. She offers $150,000 for 25%. Robert likes the business a lot. He thinks they could blow it up in the Enterprise space doing team building events. He offers $150,000 for 25% too. After talking about the valuation, the offers go down to $150,000 for 20% and the guyys go with Robert.
Adventure Hunt Shark Tank Update
The Shark Tank Blog constantly provides updates and follow-ups about entrepreneurs who have appeared on the Shark Tank TV show. The deal with Robert closed and he helped them build the corporate events side of the business. Corporate clients include Orange Theory Fitness, Ancestry.com, USAA, Keller Williams and many more. 2020 saw  pandemic related challenges for this business. They were offering "virtual" treasure hunts, but I don't know what they looked like. It looks like they got back into doing hunts in the fall of 2020, but they still aren't up to pre-pandemic levels as of June, 2021.