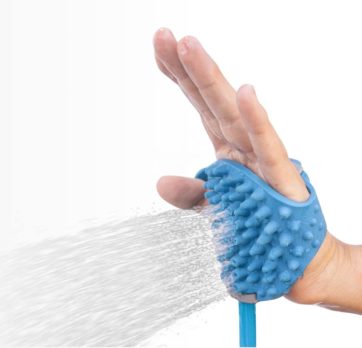 Tom Zipprian and Daniel Lentz want to get their paws on a Shark when they introduce AquaPaw, their pet bathing accessory, in Shark Tank episode 923. Lentz, a lifetime dog owner (and bather) came up with the idea for Aqua Paw while still in college at Virginia Tech. After working as an industrial designer for a couple of bicycle companies for seven years, he decided to develop the product.
The AquaPaw is a combination pet brush and bathing tool. Simply connect a garden hose or shower head (connectors included) to the AquaPaw and water jets out through the brush. This allows users to scrub, brush and bathe their pet all at the same time.
They got their company off the ground in November of 2016 with a successful Kickstarter campaign that raised $42,073. They started shipping almost a year later. In March of 2018, the product won "Best in Show" at the Global Pet Expo – the leading pet industry trade show. An AquaPaw costs $25 and is available on Amazon and the company website. They also sell a "slow treater" which dispenses dog treats in the bath tub to help induce Fido to stay put while getting a bath.
As of now, AquaPaw is slowly being introduced by major pet retailers. They'd like a Shark's help to get broader distribution. Will a Shark want to clean up with this product?
AquaPaw Company Information
Video

Posts about AquaPaw on Shark Tank Blog
Aqua Paw – Dog Bathing Accessory
AquaPaw Shark Tank Recap
Tom and Daniel enter the Shark Tank seeking $200,000 for 7.5% of their business. They tell their story, give their pitch and demonstrate the product. After the pitch, they hand out samples. So far, they've done $200,000 in sales in 9 months. Each unit costs $5.25, wholesales for $12.50 and retails  for $24.99; with more volume they think they can get the cost down to $4.50. They have a patent pending, too. They plan on adding a soap dispenser and other products in the future.
Robert offers $200,000 for 25%. Lori thinks it's a crowded market; she's out. Daymond, who Lori calls "Mr. Petco," offers $200,000 for 30%. Bethenny has two dogs and likes the product. She offers $200,000 for 30%. Tom and Daniel ask if Daymond and Bethenny would go in together at $200,000 for 20%, which insults them. Robert is so insulted at being excluded, he goes out. Daymond and Bethenny say they need to be in at 30%. When the guys directly address Daymond and ask if he'll do $200,000 for 20%. Bethenny goes out. Daymond holds firm on 30% and the guys leave with no deal.
AquaPaw Shark Tank Update
The Shark Tank Blog constantly provides updates and follow-ups about entrepreneurs who have appeared on the Shark Tank TV show. The Aquapaw guys continued on with their business successfully. They sell on Amazon, Chewy, Petco, their own website and many other pet retailers. As of May, 2022, the company is still in business with annual revenue of $4 million. In August, 2022, the company won a pair of lawsuits against 56 producers and sellers of "knock off" products. Settlement terms were sealed by the court.
**Editor's note: My dog loves getting a bath with this product**