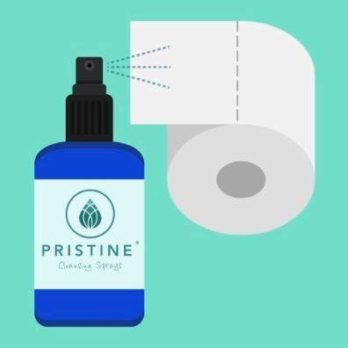 Cousins Brandon Karam and Jessica Karam Oley, former attorneys turned entrepreneurs, introduce the Sharks to Pristine Sprays in Shark Tank episode 923. Pristine Sprays are "moisturizing cleansing sprays" made from Witch Hazel, essential oils, aloe and other natural, chemical free ingredients. The sprays moisten toilet paper to replace flushable wipes.
Both Brandon and Jessica were avid wipe users. Jess is a mother of three who used a lot of wipes on her kids and herself. Unfortunately, the wipes tended to clog her plumbing and even caused a major back-up once that flooded her yard. Brandon used "adult" wipes, but they began to irritate his skin due to the harsh chemicals. When they started talking about it, they realized they needed an alternative to ecologically unfriendly, chemically infused wipes. Most wipes don't biodegrade as quickly as toilet paper, so they don't just clog up plumbing, they mess up the environment.
With a common goal in mind, they set out to find a suitable replacement for wipes and they came up with Pristine. Jessica had the idea from one of her kids who had sensitive skin. She kept getting diaper rash and she literally had to wash the kid's bum with mild soap after every poop. That gave them the idea to create a spray that uses normal toilet paper while still delivering the "wipe experience." They launched the business in 2014 and sell on Amazon and many other sites.
A bottle of spray costs about fourteen bucks. They're also developing a motion detection sprayer for nurseries and planning on selling larger bottles.  While there are six or seven other similar products on the market, Jess and Brandon hope a Shark can help them be the leader in their space.
Pristine Sprays Company Information
Video

Posts about Pristine Sprays on Shark Tank Blog
Pristine Sprays Shark Tank Recap
Brandon and Jessica enter the Shark Tank seeking $50,000 for 20% of their business. They tell how they came up with their idea and give their pitch, then hand out samples. They say they want the $50,000 to develop an automatic, no-touch sprayer for diaper changes. When they tell the Sharks they only have $11,000 they are not impressed. There is also concern that there are ten (or more) other similar sprays on the market.
Robert goes out citing the marketing challenges. Mark has a conflict with Dude Wipes; he's out. Bethenny and Daymond follow. Lori offers $50,000 for 25% of the business, contingent on the fact that Squatty Potty isn't working on a similar product. They accept Lori's offer.
Pristine Sprays Shark Tank Update
The Shark Tank Blog constantly provides updates and follow-ups about entrepreneurs who have appeared on the Shark Tank TV show. The deal with Lori never closed. It's likely it didn't close because Squatty Potty developed a similar product: Squatty Potty Toilet Pootanicals. In 2020, as a response to the Covid-19 pandemic, the company began making and selling hand sanitizer. They also developed "body cleansing sprays" that you spray on you to removes sweat and dirt leaving you feeling like you "just stepped out of the shower." As of October, 2022, the company is still in business with annual revenues of  almost $2 million.