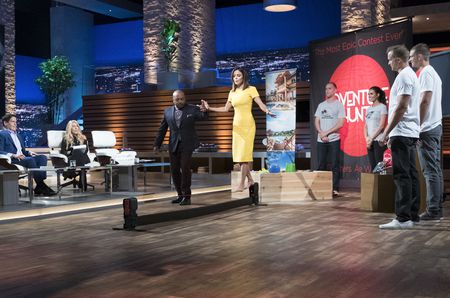 Sean and Jared Bingham have over 150 Adventure Hunts planned for 2019. What are Adventure Hunts you ask? They're a combination of Amazing Race-like tasks and a real treasure hunt. The two brothers started organizing these events a few years ago and they had tremendous success. You can go on Adventure Hunts in the USA, Canada, Australia and New Zealand. Now, they want a Shark to help them join the hunt when they pitch their business in episode 923.
The concept is very cool and it's all done on an app and Instagram. On the morning of the hunt, participants in teams of two receive a list of tasks – each with a point value attached. Tasks are as simple as taking a photo in front of a local monument to as difficult as scaling a rock face. You document your task by posting a photo on Instagram. Obviously, tougher tasks have higher point values. Once the points threshold is reached, it unlocks a treasure map on the Adventure Hunts app.
Once the map is activated, teams race to reach each new clue along the treasure hunt. The first team to reach the buried treasure box and dig it up wins. Inside the box are all kinds of goodies including GoPro Cameras and a trip to the Red Frog resort in Panama. Winning teams also earn an entry into a championship hunt against all the other winning teams. The Bingham brothers hope a Shark wants to join them on their rapidly growing adventure business. Will a Shark join the hunt?
My Take on Adventure Hunts
My wife and I love Amazing Race and we even tried out for the show at an open casting call a few years back. We didn't make it. Amazing Race is the most applied to reality show on TV with hundreds of thousands of applicants each season. People love the concept, which is why Adventure Hunts are so popular. I want to do one in my city!
The Bingham brothers also run hunts for corporate events, birthday parties, school groups and more, but I'd want in on a crack at the championship. The cost is normally $49 per person but they're having a Shark Tank special for just $29. That's cheaper than a zip-lining trip we took a little while ago and there's potential prizes to boot! They have a hunt scheduled near me soon; I think the wife and I are gonna go! I am IN.
Do Sharks See Treasure in these Hunts?
"Experience" businesses have fared well in the Tank. Mark invested in Rugged Maniac, Haunted Hayrides, and Extreme Sandbox. Mr. Wonderful teamed up with Mark on the latter. These two Sharks recognize that consumers are valuing experiences as much as, if not more than, "stuff." Hence their investments. I also know for a fact that Mr.Wonderful made a play for another obstacle course company that never materialized and the segment never aired. The company didn't want to deal with a Canadian entity since its business is in the USA.
Clearly, the Sharks = at least some of them – value the "experience business" model. The company that did the failed deal with O'Leary told me he actively pursued them and they couldn't justify his involvement due to logistics. The producers never aired the segment specifically because no deal materialized.
This makes me think Adventure Hunt gets a deal. I am leaning towards a deal with Mr. Wonderful, too. With the business operating in four countries, the due diligence phase was likely very complicated. This episode taped in season nine and it's just airing now, so something held it up. I('m betting it was the negotiations on this deal – a deal with Mr. Wonderful.