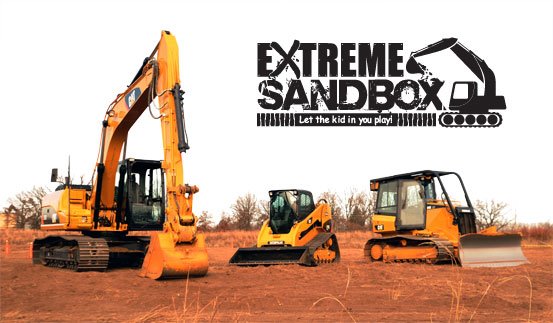 Entrepreneur Randy Stenger introduces the Sharks to Extreme Sandbox, their "heavy equipment adventure company," in Shark Tank episode 713. Extreme Sandbox lets people "play" with heavy equipment: skid steers, excavators, and bulldozers. Customers operate the equipment like real operators and, for the more experienced, they play games with the equipment, like basketball with a bucket loader!
Randy got the idea when his kids saw a bunch of heavy equipment on a construction site and said they wished they could play on them. Stenger thought it was a unique idea, so he researched it and found there was nowhere for novices to use heavy equipment in the mid-west (there is a similar business in Florida).
Randy, along with his brother Don, began the business in Hastings, MN with a temporary license to operate out of a trailer for 18 months. In 2013, after over 1,000 people tried Extreme Sandbox, they began constructing a 6,300 square foot facility that includes an office, training room, gift shop, waiting area and an area where they can store their equipment indoors.
The business operates year-round and they expanded from just three pieces of equipment to multiple pieces of each kind, plus a working fire truck. They host everything from birthday parties for teens to corporate outings, to individuals who've always wanted to operate heavy equipment. Sessions begin with a short training session and anywhere from 40 minutes to 7 hours using the equipment. There is an optional "car crush" upgrade to some of their packages, too.
The business is expanding to Texas and the Stenger brothers hope to take the concept nation-wide. Will a Shark want to build on this heavy idea and invest?
Extreme Sandbox Shark Tank Recap
The Extreme Sandbox pitch opens with an at home segment where Randy tells the story of his kids giving him the idea. He says his 10 acre sandbox makes childhood dreams come true. Randy used all his savings and retirement money to start the business and he's hoping the Sharks will help him go national.
Randy enters the Shark Tank seeking $150K for 15%. When he shows a video of his "sandbox," the Sharks LOVE it. He says he's redefining how entertainment is experienced. Kevin says he wants to crush a car as Randy says he's done $1 million in three years, $400K in the last year. His biggest challenge is getting land.
He started by leasing the land and the equipment; each location costs $100K-$125K to start. When he says he wants to open a location in Dallas, Mark says "I have a lot of land in Dallas."
Randy tells the Sharks he was a cop in Colorado for 5 years, but he moved back to Minnesota to start the business and make a better life for his family. He needs to go faster to get the business to grow. Lori asks how he'll scale and Randy says he wants to be in or near most major cities with centralized marketing and administrative offices. He says each location can do over $1 million per year,
Lori doesn't see how he'll scale; she's out. Daymond is fascinated by construction equipment and he gets the appeal, but he's out. Robert isn't passionate about it; he's out too. Kevin says he gets it and he wants desperately to crush a car. He offers $150K for 20%. Mark likes it and he has land in Dallas. He says he can't believe he's saying it, but he'll go in for half with Kevin. Randy says "You have a deal!"
RESULT: DEAL with Mark and Mr. Wonderful teaming up for $150K for 20%
Extreme Sandbox Shark Tank Update
The Shark Tank Blog constantly provides updates and follow-ups about entrepreneurs who have appeared on the Shark Tank TV show. After the show, the plans for opening the Dallas location continued, with a target opening date of April 15, 2016.
The Dallas location did open and, in addition to the heavy equipment experience, it offers car crushing. Covid-19 shut the  business down for a time in 2020. When they reopened, they followed strict protocols. In April, 2022, the Dallas area location lost its lease. The Minnesota location is the only facility at this time. As of April, 2023, annual revenue is $3.6 million.
Posts About Extreme Sandbox on Shark Tank Blog
Extreme Sandbox Company Information
Video