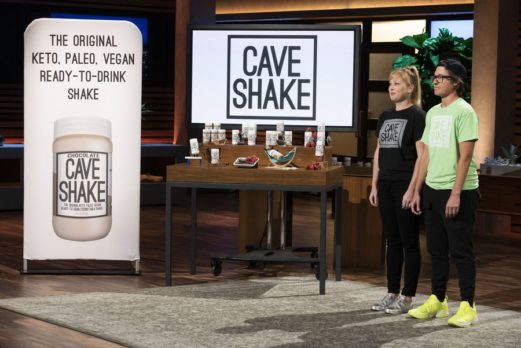 Holly Heath and Billie Cavallaro hope a Shark will shake on a deal for Cave Shake, their keto diet shake, in Shark Tank episode 1004. The keto diet is very popular these days. It's a high-fat and low-carb diet that puts  the body into a metabolic state called ketosis. This means when the body doesn't have enough glucose for energy, it burns stored fats instead.
The Cave Shake is a vegan, paleo, gluten-free, grain-free, dairy-free dessert shake made from organic coconut milk and loaded with Medium Chain Triglycerides – a type of fat that is important for health and energy levels. The shakes, which they say taste like melted ice cream, come in three flavors (chocolate, vanilla, coffee) and each serving has 320 calories, 32 grams of mostly saturated fat, 6 to 7 grams of carbohydrate and 2 to 3 grams of protein. For people on the Keto diet, a shake can replace a meal.
The Cave Shake isn't cheap. At $71.91 for a nine pack, that comes to eight bucks apiece. Reviews say they taste like melted ice cream. They are available online, at Amazon, and at Whole Foods Markets in southern California and dozens of other markets throughout the state. While the keto diet is hot, Cave Shake hopes to expand its distribution. A Shark could help with that.
Cave Shake Company Information
Video

Posts about Cave Shake on Shark Tank Blog
Cave Shakes – Keto Diet Shakes
Cave Shake Shark Tank Recap
Holly and Billie enter the Shark Tank seeking $250,000 for 10% of their business. Their pitch is a skit with a song. When they're done, they hand out samples. Robert thinks it tastes funny – that's because it has Stevia in it. They explain about ketosis and get into the numbers.
Each container costs $1.86 to make and sells for $7.99. They're selling in in southern California specialty food stores for now. Last year (2017) they had $270,000 in sales. This year (June 2018) they have $182,000 in sales so far. They gave away 15% of their business to LA Libations, a beverage industry incubator.
Kevin asks about a royalty clause for the incubator and Billie says they pay a commission on sales over $10,000. Kevin didn't like that – he's out. Robert doesn't like the taste and finds the branding confusing; he's out. Mark thinks it will be too much work; he's out. Lori goes out too, leaving Charles. He offers $250,000 for 20%. When they try to get him to go lower, he doesn't budge. Eventually they make the deal.
Cave Shake Shark Tank Update
The Shark Tank Blog constantly provides updates and follow-ups about entrepreneurs who have appeared on the Shark Tank TV show. The deal with Charles closed. Charles promoted the drink on his Inside the NBA show. He pleaded with the audience to buy it so he could "quit this damn job."
The company rebranded itself to Space Shake. The rebranding was Charles' idea apparently. They also went to smaller portion sizes to reduce calories. New to the line are "Space Bites," collagen bites sweetened with Allulose containing 2 net carbs.
As of August, 2022, the product is in 87 Whole foods in California, 6 in Hawaii and 25 others spread out across the country. You can also buy them on Amazon.  The company is doing $3 million in annual revenue.