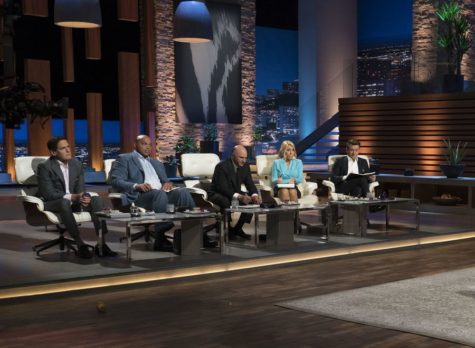 Charles Barkley joins the panel as a guest Shark in Shark Tank episode 1004. Mr. Barkley is an investor and business man when he isn't announcing NBA games. He'll join Mark, Kevin, Lori and Robert in evaluating four new businesses as hopeful entrepreneurs plead their case in the Tank.
Holly Heath and Billie Cavallaro hope to shake on a deal for Cave Shake, their milkshake/meal substitute for people on a keto diet. Former LA Laker Metta World Peace (Ron Artest), Danh Tran and Gary Falkenberg pitch Butter Cloth, a line of men's shirts that "looks like a Friday night, but feels like a Sunday morning." Chelsea and John Pinto hope the Sharks smell success when they introduce Boom Boom, their pocket aromatherapy products they discovered in Asia. Father and son team Steve and Josh King want to get an investment for Manscaped, their product line for male grooming "below the belt."
Which business gets a deal tonight?
The Sharks
---
Charles Barkley
Robert Herjavec
There is no update segment listed in the pre show press release. This usually means there will be a brief bio on tonight's guest Shark, Charles Barkley.
There are 28 Shark Tank Episodes for Season 10. This season features more appearances by "guest Sharks," including billionaire Jamie Siminoff. The 200th episode also airs this season. Casting is currently closed, but it never hurts to get a head start on season ten! If you would like to appear on the show, check out our Auditions and Casting information.
Episode 1004 – The Shark Investors and Entrepreneurs
The Shark Tank Episode 1004 entrepreneurs will make their best pitch to the panel of five Shark investors who will use their own money if they choose to invest. The Shark Investors negotiate on the spot without any previous information, which differs from typical negotiations between venture capital investors and entrepreneurial start-ups.
Companies pitching the Shark Investors must go through a rigorous due diligence process before an on-air deal is completed. Shark Tank Blog follow ups help you keep track of the companies that end up successful and the ones that don't complete their deal.
Thank you for reading SharkTankBlog, the number one site for Entrepreneurs, Investors and Fans. Our content updates multiple times day, giving you the latest information on Episode 1004, Season 10, and all other seasons and episodes.
Episode 1004 Press Release
Shark Tank: Episode 1004 (10/28)
LEGENDARY NBA BASKETBALL STAR AND INVESTOR CHARLES BARKLEY JOINS THE TANK IN AN ALL-NEW EPISODE OF ABC'S 'SHARK TANK,' SUNDAY, OCT. 28
"Episode 1004" – A father-and-son pair from Carlsbad, California, introduce a line of manscaping products for today's refined man; a husband-and-wife duo from Los Angeles, California, present a new way to get refreshed; a duo from Los Angeles, California, enter the tank to pitch their sweet treat that complies with the keto diet craze; an immigrant from Vietnam pitches the Sharks his buttery-soft dress shirts in hopes of realizing his American dream and brings along an unlikely celebrity partner, on "Shark Tank," SUNDAY, OCT. 28 (9:00-10:01 p.m. EDT), on The ABC Television Network, streaming and on demand.
The Sharks in this episode are Mark Cuban, Kevin O'Leary, Lori Greiner, Robert Herjavec and Guest Shark Charles Barkley.