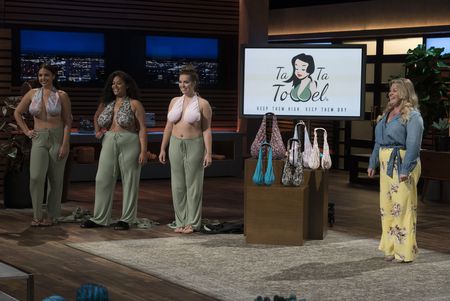 Erin Robertson tackles the problem of female breast sweat when she pitches the Tata Towel in episode 1003. The inspiration for her assault on perspiration came on a warm LA evening while preparing for a date. Her AC was on the fritz and her tatas were sweating bullets. She tried a variety of methods to dry off, but none of them worked.
All during her date, she kept thinking about her sweaty breast problem. Her thoughts kept her awake later that night and finally it came to her. She borrowed a sewing machine, watched a lot of Youtube videos on sewing and went to work, destroying every towel she owned in the process. Once she had some prototypes, she passed them around to her friends.
One friend had rash problems due to moisture under her breasts. The Tata Towel cured her. Another friend was nursing and found the towel to be comfortable and allowed for easy access. Erin patented her towels and now sells them for use at the spa, gym or just lounging around.
She makes each Tata Towel out of the softest material she can find. They cost $35-$45 and come in a variety of colors and patterns. Since each color and pattern is still hand-made, quantities are limited. Erin needs to ramp up her manufacturing to meet a mass market and a Shark can help her with that.
Tata Towel Company Information
Video

Posts about Tata Towel on Shark Tank Blog
Ta Ta Towel Keeps Your Ta Tas Dry
Tata Towel Shark Tank Recap
Erin enters the Shark Tank seeking $200,000 for 10% equity in the business. She says she's in the business of keeping boobs high and dry and the Sharks laugh. She tells how she created her product. When the three models onstage reveal their tatas, the Sharks have another laugh, then she hands out samples.  Kevin tries his on with the grapefruits Erin provides him!
She has design patents for the original and maternity versions and she has the name trademarked. The originals sell for $45 and the maternity version sells for $55; they cost $24 to make. Last year (2017), she did $1.1 million in sales. The product went viral and sales this year(2018) are only at $180,000. All towels are sewn in LA by women.
The Sharks are concerned that she has 10,000 units in inventory. Lori is the only Shark to make an offer: $200,000 for 50%. Erin has another partner and doesn't want to be that diluted. She counters with 40% and they do the deal.
Tata Towel Shark Tank Update
The Shark Tank Blog constantly provides updates and follow-ups about entrepreneurs who have appeared on the Shark Tank TV show. The deal with Lori never closed. Usually, when someone is manufacturing in the US, Lori wants to go  overseas. That alone kills a lot of Lori's deals. Erin sold her 10,000 units and then some. She's now on Amazon as well as selling from her own site. The company still sews the towels in LA. They also added tube tops, shorts and head towels to their line. As of January, 2023, annual sales are $1 million.