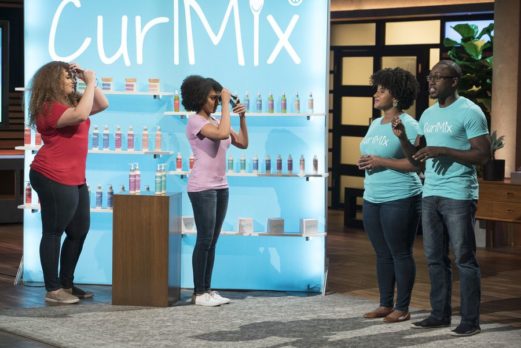 Kim and Tim Lewis pitch Curl Mix, their line of hair care products for people with thick, curly hair, in Shark Tank episode 1016. The husband and wife team were high school sweethearts and married shortly after college. Tim funded Kim's first business venture, Natural Hair Academy –  a social network for women with curly hair, with part of his $100,000 winnings on Who Wants to be a Millionaire. That project didn't work out, but it led to the creation of CurlMix.
Curl Mix was Kim's next venture. It started as a monthly subscription box that mailed ingredients for people to mix their own natural hair care products. She sold ONE BOX. Back at the drawing board, she re-did her website, did a lot of research, contacted influencers in the field and relaunched. She sold 90 boxes the first day and went on to do $100,000 in sales for the year.
As her customer base continued to grow, they began asking for pre-mixed products. Kim obliged and began offering a complete line of shampoos, conditioners, gels and more in March, 2018. Since then, she claims she's had "explosive growth."
Her products are premium hair care products and are priced that way. A bottle of any product is $18 with discounts when you buy a complete "Wash and Go system" package. She sells on her website and Amazon but likely wants to crack the high-end hair care retail market. Can a Shark help keep this business curly?
Curl Mix Company Information
Video

Posts about Curl Mix on Shark Tank Blog
CurlMix – Curly Hair Care Products
Curl Mix Shark Tank Recap
Kim and Tim enter seeking $400,000 for 10% of their company. The Sharks aren't fans of the hair products space. They drop off one by one and Mr. Wonderful says there's nothing proprietary about it. He thinks a big company will come in and crush them. Alli Webb, who made her fortune straightening curly hair, understands the market, but doesn't bid.
Robert, who admits he doesn't understand  the market, offers $400,000 for 20%. He says he believes in the Lewis' entrepreneurial drive. Unfortunately for Robert, Kim and Tim decline his offer.
Curl Mix Shark Tank Update
The Shark Tank Blog constantly provides updates and follow-ups about entrepreneurs who have appeared on the Shark Tank TV show. After rejecting Robert's offer, the couple raised $1.2 million from Jeff Weiner (Former LinkedIn CEO) and Arlan Hamilton (Backstage Capital) for 10% of the business. They went from $1 million in sales in 2018 to $5 million in 2019 to $6 million in 2020.
In 2020, they made the Forbes 30 under 30 list for Retail and eCommerce. They also took out a forgivable, federal PPP loan available to small businesses during the Covid-19 pandemic. In 2021, they are over $13 million in lifetime sales and growing. They also raised $5,288,846 on Wefunder in May, 2021. The company was number 93 on the Inc. 5,000 list in 2021. As of April, 2023, annual revenue is north of $10 million.
In September, 2023, the company got into Ulta Beauty stores. They expect 2024 revenue to top $40 million.