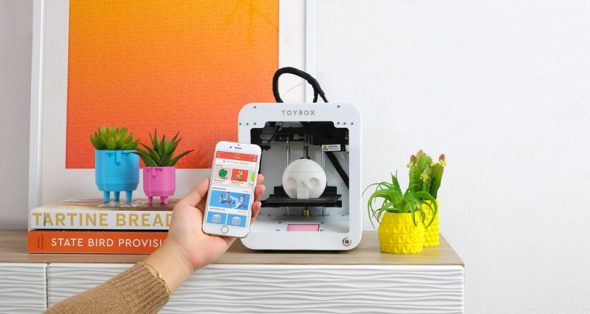 Jen Chin and Ben Baltes want a Shark to put a bid in play when they pitch ToyBox in Shark Tank episode 1015. ToyBox is the latest 3D printer made just for kids. With technology changing rapidly and the advent of STEM toys, Baltes felt it was about time there was a 3D printer for kids.
They got the business going with a successful IndieGoGo Campaign that raised $155,605 back in September, 2107. Now, the company ships its "starter bundle" for $299. Spools of "printer food" cost ten bucks each and come in a variety of colors. The printer food is what makes the the toys that get printed. It's made from non-toxic, biodegradable, PLA plastic made with corn oil. The printer itself is all metal and designed for kids' safety. Unlike industrial 3D printers, it's fully enclosed.
Everything you need to run the Toy Box printer is done online or through a smart phone app. You can make toys from their extensive online catalog which includes everything from cars to chess pieces to action figures. Kids can even make a "block buddy" in their own likeness. As if that's not enough, you can even design your own toy or import one from a picture.
They claim the ToyBox 3D printer works relatively fast so kids won't get bored. Toys in the catalog have a "time to print" rating. ToyBox is out a year before toy giant Mattel plans on introducing their own 3D toy printer, so they have an advantage – for now. They likely need a Shark to help them brand themselves and scale up quickly. Will a Shark want to play with these toys?
ToyBox Company Information
Video

Posts about ToyBox on Shark Tank Blog
Toy Box Labs – Print Your Own Toys
ToyBox Shark Tank Recap
Ben and Jen enter seeking $150,000 for 5% of their business. After demonstrating their product and handing out samples, they reveal they manufacture it for $150 and sell it for $299. They've made $300,000 since launching, which includes the IndieGoGo sales. The sample toy they handed out takes 4 hours to make and the Sharks don't think 6-9 year olds have the patience for it. Jamie thinks $299 is pricey for a product that a kid could quickly lose interest in.
Mark goes out first, citing attention span concerns. Daymond is next – he's worried about liability. Kevin offers $150,000 for 10% and states he'd like to license it (as I predicted). Jamie goes out and Lori quickly follows. Kevin then alters his offer to $150,000 for 15% since they have no other offers. Ben and Jen counter with 12% but Kevin doesn't back down. They counter again with $150,000 for 13% and 2% advisory shares which Kevin accepts.
ToyBox Shark Tank Update
The Shark Tank Blog constantly provides updates and follow-ups about entrepreneurs who have appeared on the Shark Tank TV show.  As of June, 2019, it doesn't appear they've closed their deal with Kevin. On the Toybox website, they tout the fact they did a deal with Kevin, but they aren't listed on Kevin's website as one of his companies. The reason for that is the deal never closed.
In March, 2020 Toy Box entered a licensing agreement with Beano Studios, producers of Dennis & Gnasher: Unleashed, a cartoon series that streams on Netflix in the US. In May, 2019, they raised $2 million in a venture round with six different venture capital firms. March 2021 saw the biggest licensing deal yet: Warner Brothers, which includes the entire DC Comics universe. As of June 2022, the company has$24 million in annual revenue.
In August, 2022, they introduced sun activated printer food. The printer food changes color when sunlight hits it.