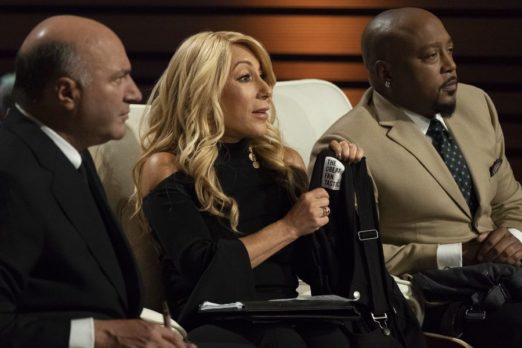 The Sharkettes join Mark, Kevin and Daymond in episode 1019 as four new entrepreneurs seek investments and partnerships to grow their businesses. Gwen and Christine Nguyen want the Sharks to taste Mavens Creamery, their line of macaron ice cream sandwiches that are taking California by storm. Kyle Bergman (aka the Great Fantastic) wants the Sharks to try on Swoveralls, his overalls made with sweatpants material. D'Ontra Hughes seeks an investor for Spare, his digital banking app that replaces ATM machines. Nicholas Machalak wants to stop snorers from keeping people awake with Somnifix, mouth strips that reduce snoring and improve sleep quality.
Which business snags a Shark tonight?
Lori did a deal with bantam Bagels back in season six for $275,000 for 25% of the business. Since then, the company has been the subject of two updates and a Beyond the Tank segment. Each time they update, they've increased their sales and distribution. They were in 400 Starbucks stores with hopes to get into all 7000. We'll see what this successful Shark Tank business is up to in tonight's update segment.
The Sharks
---
Barbara Corcoran
Daymond John
There are 28 Shark Tank Episodes for Season 10. This season features more appearances by "guest Sharks," including billionaire Jamie Siminoff. The 200th episode also airs this season. Casting is currently closed, but it never hurts to get a head start on season ten! If you would like to appear on the show, check out our Auditions and Casting information.
Episode 1019 – The Shark Investors and Entrepreneurs
The Shark Tank Episode 1019 entrepreneurs will make their best pitch to the panel of five Shark investors who will use their own money if they choose to invest. The Shark Investors negotiate on the spot without any previous information, which differs from typical negotiations between venture capital investors and entrepreneurial start-ups.
Companies pitching the Shark Investors must go through a rigorous due diligence process before an on-air deal is completed. Shark Tank Blog follow ups help you keep track of the companies that end up successful and the ones that don't complete their deal.
Thank you for reading SharkTankBlog, the number one site for Entrepreneurs, Investors and Fans. Our content updates multiple times day, giving you the latest information on Episode 1019, Season 10, and all other seasons and episodes.
Episode 1019 Press Release
Shark Tank: Episode 1019 (4/21)
AN ALL-NEW EPISODE OF ABC'S 'SHARK TANK' DEBUTS SUNDAY, APRIL 21
"Episode 1019" – First into the Tank are sisters from San Jose, California, who combine two delectable desserts into one amazing treat. An entrepreneur from West Hollywood, California, pitches his modern alternative to traditional ATM machines. An entrepreneur from New York City presents his clothing design for both men and women that combines two comfortable fashion trends into one. Last into the Tank is an entrepreneur from Mclean, Virginia, who introduces his hypoallergenic sleeping product that helps reduce snoring and dry mouth on "Shark Tank," SUNDAY, APRIL 21 (10:01-11:00 p.m. EDT), on The ABC Television Network, streaming and on demand.
In a "Shark Tank" update, Nick and Elyse Oleksak, from New York City, update their investor, Lori Greiner, on Bantam Bagels, authentic New York bagels in the form of a mini stuffed bagel ball.
The Sharks in this episode are Mark Cuban, Kevin O'Leary, Lori Greiner, Barbara Corcoran and Daymond John.