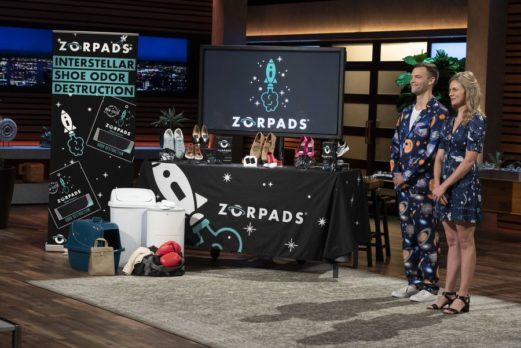 Taylor Wiegele and Sierra Smith want the Sharks to help them launch Zorpads, their shoe odor elimination pads, in Shark Tank episode 1009. Zorpads is the newest and most convenient shoe odor elimination pad on the market. The secret is "NASA-tested technology," which is something Taylor came across while working as a chemical engineer.
Taylor and Sierra developed the product as a school project while attending Harvard Business School. They further developed it in the Harvard Innovations Lab. With $25,000 in venture funding, they got the product ready for market and have a patent pending. They wanted to solve a problem and while testing prototypes, they found most people were dissatisfied with shoe odor elimination products; powders were too messy and inserts too bulky.
Zorpads are smaller than a business card and stick to the insole of any shoe. They work for about 60 wears before needing replacement. Each Zorpad has a moisture wicking layer, an odor absorbing layer and an adhesive layer. The "secret sauce" is the odor absorbing layer. It's a porous, carbon fabric with the surface area of a tennis court – it literally vacuums up foot stink.
At $4-$5 per pair, they're affordable. Bought in bulk, they're even less expensive. While the company's seen over 100% growth since launching in August, 2017, they surely know a Shark can accelerate growth even faster. Will a Shark want to partner in this smelly business?
Zorpads Company Information
Video

Posts about Zorpads on Shark Tank Blog
Zorpads Shark Tank Recap
Taylor and Sierra will pitch the panel of five Sharks on the business and its prospects for growth. They'll need to convince Mark Cuban, Kevin O'Leary, Lori Greiner, Robert Herjavec and Guest Shark Charles Barkley that the company is worthy of a Shark investment. A good business plan, good financials, and sales data will impress the Sharks, but they'll need to show them THEY are capable of running the company to "Shark standards." A full pitch re-cap on Zorpads will be available on Shark Tank Blog once this episode airs.
Zorpads Shark Tank Update
The Shark Tank Blog constantly provides updates and follow-ups about entrepreneurs who have appeared on the Shark Tank TV show. Once an episode has aired, we monitor the progress of the businesses featured, whether they receive funding or not and report on their progress. The Shark Tank Blog will follow-up on Zorpads & Taylor Wiegele and Sierra Smith as more details become available.