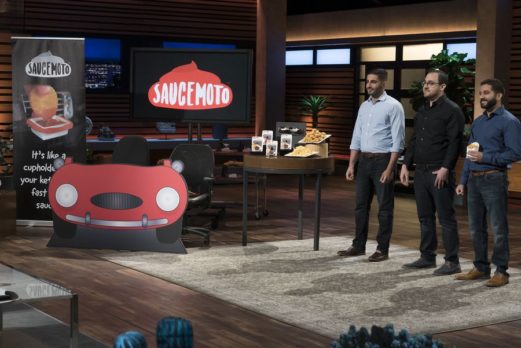 Tony LaHood, William Moujaes and Michael Koury want to make dipping safe again with Saucemoto, their dip holder for automobiles, in Shark Tank episode 1021. All three men have design and engineering backgrounds and are self-professed "tinkerers and dreamers." Simply put, they like inventing stuff. Their firm, Milkmen Design, got their first round of Saucemotos made with $63,308 they raised on Kickstarter back in late 2017.
The initial vision for the product goes back to 2007 when the guys were on a road trip. They got some chicken nuggets and fumbled around with their sauces while driving. Inevitably, there was a spill and they thought "there has to be a better way." Saucemoto was the result. It's a holder for sauce packets that clips into the AC/Heating vent of virtually any car. It's sized to snugly accept all major brand sauce or ketchup packs out there. If you want to bring your own sauce, there's a small dipping dish included.
They first thought about Saucemoto all those years ago, but it didn't come to fruition until William got a 3D printer and began making prototypes. People loved them, but they weren't the final product. The guys got every sauce packet they could find and made sure they all fit. They also had to make a universal clip that fit in every car vent.
Now, Saucemoto is widely available on Amazon. A set of two costs $10.99. The guys have a lot of buzz because it's such a quirky product and they're looking to capitalize on a Shark's fame and fortune to take sales to the next level. Will a Shark want to take a dip?
SauceMoto Company Information
Video

Posts about SauceMoto on Shark Tank Blog
Sauce Moto – Automobile Dip Clip
SauceMoto Shark Tank Recap
Tony William and Michael will pitch the panel of five Sharks on the business and its prospects for growth. They'll need to convince Mark Cuban, Kevin O'Leary, Lori Greiner, Robert Herjavec and Barbara Corcoran that the company is worthy of a Shark investment. A good business plan, good financials, and sales data will impress the Sharks, but they'll need to show them THEY are capable of running the company to "Shark standards." A full pitch re-cap on SauceMoto will be available on Shark Tank Blog once this episode airs.
SauceMoto Shark Tank Update
The Shark Tank Blog constantly provides updates and follow-ups about entrepreneurs who have appeared on the Shark Tank TV show. Once an episode has aired, we monitor the progress of the businesses featured, whether they receive funding or not and report on their progress. The Shark Tank Blog will follow-up on SauceMoto & Tony LaHood, William Moujaes and Michael Koury as more details become available.