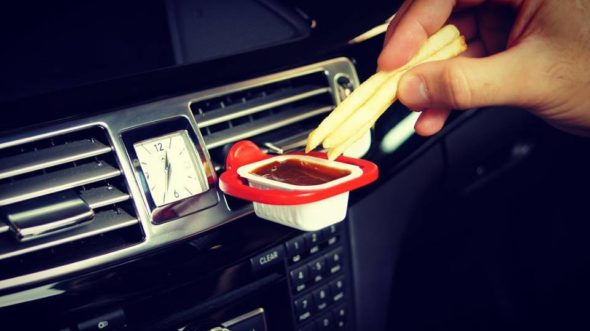 Inventors create products that solve problems and the Sauce Moto guys are no exception. They saw a problem and created a solution and now they're on Shark Tank to get their invention – the SauceMoto Dip Clip – into every car in America. Creators Tony LaHood, William Moujaes and Michael Koury. Simply put, "Sauce Moto is an in-car condiment holder for anyone who loves sauce with their food." It clips into the heating/ac vent of your car and holds your condiments.
The guys found their "problem" back in 2007 while road-tripping in Michigan. They stopped for some chicken nuggets and made a mess when it came time to dunk their nuggets into the barbecue sauce. After the idea festered for ten years, It came to fruition when Moujaes got a 3D printer and started tinkering with prototypes. He made some for himself and his friends and then the guys got serious.
They went and got every disposable condiment holder from all the major fast food chains and made the Sauce Moto "compatible" with all of them. They even include an empty dish in case you want to bring something from home. You can buy them on Amazon with FREE SHIPPING or on the company website. Even though they self-funded their startup with Kickstarter, they likely need a Shark to help them with more production. Will a Shark like this sauce?
My Take on Sauce Moto
I think this is a dopey product. I would never buy one. There are a lot of people out there who would buy it though. I have no desire to have a condiment tray on my dashboard. In fact, I won't eat fast food anymore. I may be in the minority here – after all they raised over $60,000 on Kickstarter, but I still think it's dumb. I'm out.
Will Sharks Like This Sauce?
I have a feeling this will be a very funny and entertaining pitch with all the Sharks laughing throughout. Their story is cute, but I think the Sauce Moto guys will ultimately fall prey to the "it's a product, not a business," objection. The only prayer they have is if Lori likes it.
Lori is the purveyor of the strange and kitschy in the Tank. She knows that sometimes goofy stuff like this sells and if she thinks it's a "hero," she'll bid. I can't see any of the other Sharks going for this, so they better get Lori.