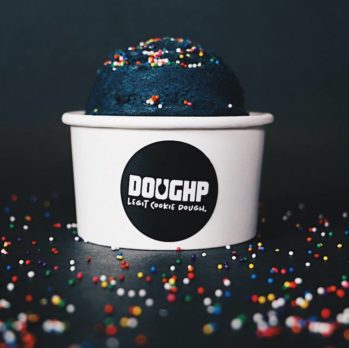 Doughp Cookie Dough creator Kelsey Witherow pitches her "legit cookie dough" to the Sharks in episode 1021. It's pronounced DOPE as in "that's Dope," a saying from her youth in Northern California. She started her quirky company in San Francisco in 2017 at Pier 39 – a popular tourist attraction – with a small kiosk. Since then, she's grown the business to include a kiosk at AT&T Park in San Francisco and in the miracle mile shops in Las Vegas.
Witherow is a recovering alcoholic and "sometimes vegan" who began experimenting with cookie dough recipes in 2015 after a ten year stint at Intel. She turned to baking to help her battle the demons of alcoholism and ended up founding a business. Doughp Cookie Dough contains no eggs and it's vegan. You can eat it raw or bake it into cookies.
Currently Witherow sells in her retail locations and direct to consumers on her website and on Amazon. She donates a portion of her profits to non-profits working to support mental health and substance abuse issues. Her goal is to expand her retail footprint both with more kiosks and to possibly get into supermarkets. A Shark could be a big help, but do Sharks like cookie dough?
My Take on Doughp Cookie Dough
I LOVE cookie dough. When I was a kid, I'd make cookies and only bake half the batch. The rest I ate as cookie dough. I don't do that any more and I tend to stay away from sweets now, but an occasional indulgence is allowed. This is something I'd probably try once, but wouldn't buy a lot of. I will try it when I go to Las Vegas next year.
As for the business plan, I think Witherow is on the right track. She seems to be growing the company at a good pace and she has big plans. She's hiring as if more retail locations are planned, so she must have good sales at her current locations. I may not be a regular customer, but I'll bet there are plenty of them out there. I'm in.
Do Sharks Give this Business Some Dough?
Back in season five, Lori Grenier and Steve Tisch invested $100,000 for 30% of the Cookie Dough Cafe. It is similar to Doughp Cookie Dough from a product and business plan standpoint. Five years later, that business is doing very well with its original shop in Portland and nationwide distribution in hundreds of supermarkets and Sam's Clubs.
That said, Lori will not likely bid on this business. Barbara and mark teamed up on several food related businesses in the past including the wildly successful Tom and Chee. Mark could also set up instant distribution in his theater chains and his stadium (Doughp is already selling well in a stadium). I think if Kelsey offers a good value, she'll get an offer from Barbara and Mark or the two of them combined.