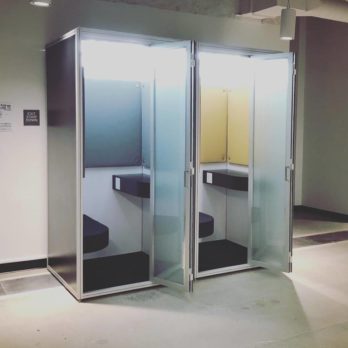 I don't know if Cubi Call inventors Nick and Anthony Pucci were fans of the TV show Get Smart, but the first thing I thought of when I saw their invention was the Cone of Silence. That was a device that dropped from the ceiling in "The Chief's" office that allowed two people to have a conversation in privacy. That's the idea behind Cubi Call. It's shaped more like a phone booth than a cone, but it does the same thing.
The Pucci's run a company called the Abbiamo Group. It's a Los Angeles based advertising and marketing agency. Like roughly 70% of offices in the USA, they have an open office concept. That's where you have access to any number of work spaces and very few private offices or walls. They were designed to encourage collaboration and innovation while eliminating symbols of corporate hierarchy and "cubical farms." Many companies swear by the concept, but there are a lot of people who find these layouts distracting. Noise is a big problem in these types of offices. The Puccis believe they have a solution.
Enter Cubi Call. It's a sound proof phone booth-looking "mini room" you can plunk down in the middle of your open office. This allows for a quiet space to make a phone call or even have a private meeting for up to four people. The Puccis started Making Cubi Call in 2017 when they wanted a solution for their sometimes noisy open office. When they found no solution, they created one.
Companies like IBM, Cisco and Lyft are customers and the demand for these mini offices is growing. Cubi Call offers booths that hold one to four occupants. They include a desk, air fan, LED lights and electrical outlets with USB ports. Prices range from $6495 up to $12,000. You can even have custom artwork on your booth. A popular version is their Superman booth, emblazoned with a big picture of Superman in flight. The idea of booths is catching on and in the past two years, a half a dozen other companies that make similar products have sprung up. The Puccis probabl want a Shark to help them maintain their first to market momentum. Will a Shark dial in on Cubicall?
My Take on Cubi Call
I've worked in open offices before and it can get very loud. I always had the option of retreating to a conference room for some quiet, but there were times when they were occupied and there was nowhere to go. A Cubi Call booth would have come in handy.
It seems there are a lot of companies who feel the same way. Success often brings imitators and, as stated above, several sprung up in the last two years. Fast Company sees this business as a growing – and profitable – trend in the office furniture industry. Cubi Call falls in the middle on the pricing spectrum in the half a dozen or so businesses making these kind of booths. Sales are still small, but they've doubled year after year and industry experts believe this could be a $10 billion niche. That's a lot of phone booths! I'm in.
Will Sharks Make a Call?
I'm sure all the Sharks are familiar with open offices and probably even work in them from time to time. They'll recognize both the problem and Cubicall's solution. The level of competition may scare them off, but being first to market has its benefits.
The Puccis are smart entrepreneurs in their own right, even before they started Cubi Call. The Sharks should recognize their savvy. They'll also recognize the tremendous opportunity in the space. What this deal comes down to is valuation. I predict the Puccis will ask for a low percentage/high valuation deal. This may spark some discussion,  but I ultimately think they'll walk with no deal.