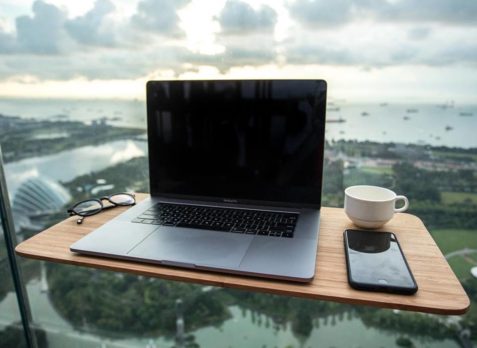 Desk View creators Jason Grohoski and Michael Bolos know the value of a stand up desk. Stand up desks have become very popular over the past ten years as people spend more and more time at a desk in front of a computer. A stand up desk lets you stand up and work – something that benefits your overall health and posture. Standing intermittently for periods throughout the day is much better than slumping at a desk all day.
Grohoski and Bolos liked their stand up desks, but they thought they are too expensive and bulky. They wanted something for on the go working that could also function as a good office stand up desk. Desk View is the answer. With DeskView, you have a stand up desk anywhere there's a smooth surface. This is very cool when you attach it to a window – you have a desk with a view.
The guys say Desk View is rated for 40 pounds, but they have pictures of people standing on their DeskViews on their Facebook page! At $235, it's cheaper than most stand up desks on the market which can cost anywhere from $480 to $2,000 – depending on the quality of construction and materials.
The Desk View guys didn't skimp on quality. Their desk mounts with vacuum-sealed, industrial strength suction cups to any smooth surface. It comes in white, wood grain or glass. The Kickstarter community contributed $65,715 to get the first production run going back in 2017. Now, DeskView is readily available on Amazon. The guys likely want a Shark to help them with production and retail distribution. Will a Shark like this desk?
My Take on Desk View
I use a stand up desk – sort of. I work at home in my den most of the time. When I want to stand up and work, I grab my laptop and stand at the kitchen counter. I do it several times a day, just to keep from getting slouchy at my desk. Many companies know the value of stand up desks and spend big bucks outfitting their offices with them, Desk View could save them a few bucks.
If I still worked in an office, I'd want one. I like the idea of sticking it to a window and having a view while typing. I'm not sure if a lot of companies will buy these, but I can see consumers gobbling them up. I think DeskView has a bright future. I'm in.
Do Sharks View a Deal?
I think the Sharks will like the product. It's sleek, elegant and functional. As for the business, that remains to be seen. The Desk view guys will need a good value proposition. Oftentimes, when something gets quick funding on Kickstarter, the entrepreneurs come in with only Kickstarter sales and a valuation that's out of whack. If that happens, they're doomed.
If the valuation is reasonable, they may garner some interest. I think the price might be a bit too high for Lori, but if they can get it down, she might be interested. Mark will like it, but it could be a "product, not a business" to him. Kevin will undoubtedly offer some sort of royalty deal but they won't accept it. I think Robert is the best bet. He likes direct to consumer online companies that he can be hands off with. I think it's Robert or nothing.