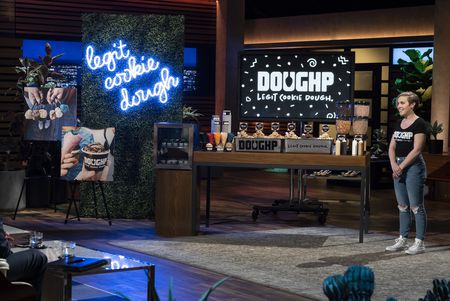 Kelsey Witherow feeds the Sharks some of her Doughp – snackable cookie dough in a variety of flavors – in Shark Tank episode 1021. Witherow spent ten years at Intel doing product marketing, but she had a dark secret. Witherow was an alcoholic. She got sober in 2015 and rediscovered her love of baking. She loves cookies and cookie dough.
A self-professed "sometimes vegan," Kelsey looked for a substitute for raw eggs in her Doughp cookie dough so she wouldn't get sick. Once she perfected her recipes, she wanted to share them with the world. In 2017, she opened a small kiosk on Pier 39 in San Francisco and did corporate catering gigs. Now she has Doughp at AT&T park and in Las Vegas at the Miracle Mile Shops in Planet Hollywood. The retail shops feature the cookie dough plus "mocktails" and milk shots.
Doughp is a socially conscious business, too. Kelsey gives a portion of her profits from her sales to organizations that help people struggling with addiction. She also uses a non-profit co-packer that employs disadvantaged folks and people trying to stay sober.
In addition to the retail locations, she ships wholesale cookie dough and sells direct on her website. It's a tad pricey – $69 for a six pack of four ounce containers of cookie dough. She likely wants to expand the retail business while rolling out more direct to consumer offerings. Will a Shark offer this business some dough?
Doughp Company Information
Video

Posts about Doughp on Shark Tank Blog
Doughp Shark Tank Recap
Kelsey enters seeking $450,000 for 10% of her cookie dough business. With over 20,000 customers per month coming to her single location, cash flow is good. As she hands out samples, the Sharks moan with delight as they sample her fare. The Sharks like Kelsey's branding and margins. They also like the $850,000 in sales in a year and a half.
The valuation is way too high for the Sharks. Lori doesn't want to sponsor something that will enable childhood obesity. One by one, the Sharks drop out, and Kelsey leaves without a deal.
Doughp Shark Tank Update
The Shark Tank Blog constantly provides updates and follow-ups about entrepreneurs who have appeared on the Shark Tank TV show. A few months after appearing on Shark Tank, she found another investor who gave her $500,000 for an undisclosed valuation. With that, she opened a shop on the Las Vegas strip in the Miracle Mile Mall. She also set up cookie dough vending machines in McCarren Airport. She and her husband moved to Las Vegas and began growing their eCommerce business. The move to Vegas saved them from paying California's 9.25% income tax.
Things were taking off for Doughp, then the 2020 Covid-19 pandemic hit. While she did make the Forbes 30 under 30 list, the rest of the year was tough. They closed their stores and pivoted to eCommerce. While laid off retail employees may not have benefitted, Doughp saw a dramatic uptick in online sales. They went from $50,000 online in 2019 to $2.5 million in 2020. Sales for 2021 were $5 million. She also introduced Doughp Drops, packages of bite-sized cookie dough.
The company gets an update segment in episode 1324. In the update, she said it was a Shark's suggestion that led to creating Doughp Drops. She reviews her sales figures. Next, she reveals the products are in Costco and Wal Mart, plus a handful of other small grocery chains. The products were on QVC and they sold so well, QVC is inviting her back. Four years after appearing on Shark Tank, lifetime sales are $9.4 million.
In addition to her business success, Kelsey is celebrating 7 years of sobriety. She also started the Doughp for Hope Foundation which helps folks recovering from addiction.