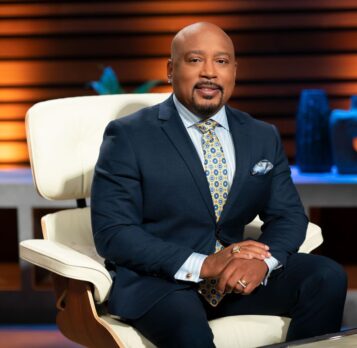 Mark, Daymond, Kevin, Lori and Robert are the Shark Tank Sharks for episode 1324. Together they'll evaluate 4 new businesses seeking an investor/partner. Sometimes the Sharks battle it out if they think a business is worthy enough. Will one of the Sharks have a new business partner tonight?
Jon Shanahan and Devir Kahan seek a Shark investment for Stryx, their make up for men that was born out of a wedding day pimple. Surfers turned entrepreneurs Wes Horbatuck and Greg Orfe pitch Driftline, their boardshorts with a lining made from neoprene wetsuit material. Siblings Griffin and Shannon Ross want a Shark to help them with Springer, their water bottles created for dogs on the go. Chris Diede, Jake Rutledge and Chase Terrell fish for Sharks with Chill n Reel, their drink cooler with a fishing reel attached. Who lands a Shark tonight?
Even though Kelsey Witherow didn't hook a Shark when she appeared in season ten, she gets an update segment for Doughp, her cookie dough business. We'll likely hear about the pivot she made from retail to eCommerce during the Covid-19 pandemic and the company's move to Las Vegas.
The Sharks
---
Daymond John
Robert Herjavec
There are 26  Shark Tank Episodes for Season 13. This season features the six original Sharks: Mark, Daymond Kevin, Lori, Barbara and Robert. Four new Guest Sharks will join the panel in season 13. They are: Kevin Hart, Actor, Investor and Entrepreneur; Emma Grede, CEO and Co-Founder of Good American and Founding Partner of SKIMS; Peter Jones, Dragon on BBC's Dragon's Den; and Nirav Tolia, Co-Founder of Nextdoor. Also Guest Shark Daniel Lubetzky returns. Casting is currently closed, but it never hurts to get a head start on season fourteen! If you would like to appear on the show, check out our Auditions and Casting information.
Episode 1324 – The Shark Investors and Entrepreneurs
The Shark Tank Episode 1324 entrepreneurs will make their best pitch to the panel of five Shark investors who will use their own money if they choose to invest. The Shark Investors negotiate on the spot without any previous information, which differs from typical negotiations between venture capital investors and entrepreneurial start-ups.
Companies pitching the Shark Investors must go through a rigorous due diligence process before an on-air deal is completed. Shark Tank Blog follow ups help you keep track of the companies that end up successful and the ones that don't complete their deal.
Thank you for reading SharkTankBlog, the number one site for Entrepreneurs, Investors and Fans. Our content updates multiple times day, giving you the latest information on Episode 1324, Season 13, and all other seasons and episodes.
Episode 1324 Press Release
"Episode 1324" – Entrepreneurs from Lawrence, New York, want to change the way men fix their appearance with their line of cosmetics to help clear up imperfections instantly. Entrepreneurs from Encinitas, California, hope to make a splash with their stylish watersport apparel brand that provides athletes with comfort and protection. Siblings from Austin, Texas, pitch their travel product designed to keep pups hydrated during any excursion; while entrepreneurs from Sand Springs, Oklahoma, hope to reel in a Shark with their fun solution to drinking a beverage while fishing on "Shark Tank," airing FRIDAY, MAY 13 (8:00-9:01 p.m. EDT), on ABC. (TV-PG, L) Watch episodes on demand and on Hulu the day following the premiere.
In a Shark Tank update, Kelsey Witherow from Hideway, Texas, walked away without a deal but turned her time in the Tank into a success with Doughp, dough that is edible, bakeable, and ridiculously tasty.
The Sharks in this episode are Mark Cuban, Robert Herjavec, Kevin O'Leary, Lori Greiner and Daymond John.