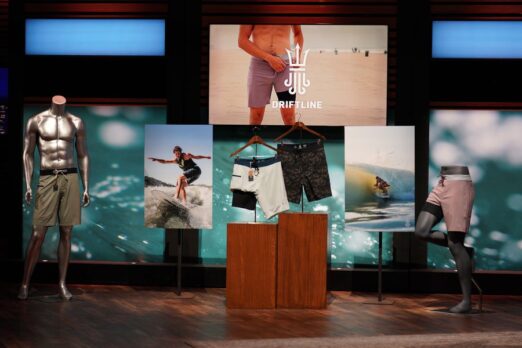 Wes Horbatuck and Greg Orfe look for a good fit for Driftline, their board shorts with wetsuit material lining, in Shark Tank episode 1324. Back in October of 2016, the guys were getting ready to go surfing. It was a time of year where the water was too cold for just a bathing suit and too warm to don a wetsuit. They claim their "unmentionables" were quite uncomfortable in the chilly water.
They realized more than surfers could benefit from their solution. Wakeboarders, swimmers, kayakers and others surely had the same issues. That's when they came up with the idea for their Driftline Board Short. Basically, it's a short pair of wetsuit material with a board short on the outside. The shorts provide protection for your unmentionables in cooler water without sacrificing style.
The neoprene inner wetsuit with a bathing suit outer is patent pending. The shorts come in a wide variety of colors and patterns. Driftline also sells unlined bathing suits, tee shirts and hats. A pair of the lined shorts will cost you $65 and the unlined shorts cost $40. They currently only sell direct to consumer on their website and they're hoping for a Shark's help growing the line.
Company Information
Video

Posts about Driftline on Shark Tank Blog
Drifties – Driftline Boardshorts
Driftline Shark Tank Recap
Wes and Greg enter the Shark Tank seeking $100,000 for 10% of their business. They talk about the need for something in between wetsuits and bathing suits. Next, they introduce the Drifties and talk about their benefits. As the Sharks examine their samples, the guys explain the neoprene liner. It's a wetsuit combined with board shorts and they have a utility patent pending.
Sales year to date (mid 2021) are $125,000. 2020 sales were $100,000. They predict they'll finish 2021 with $200,000 in sales. 99% of sales are direct to consumer on their website. They've only spent $10,000 in marketing. Drifties sell for $89 and cost $33 landed. They started the business as a school project for Greg.
Robert thinks it's a fantastic idea, but he's struggling with whether it's a sustainable business. They plan on making shorts for specific water sports. They're break even because they're putting everything back into R&D. They want Shark cash to maintain inventory.
Kevin doesn't know how big the market is; he's done. Lori says it's too niche; she's out. Daymond says Mark and Robert would be better partners; he's out. Mark doesn't think it's big enough; he's out. Robert offers $150,000 for one third of the business. They counter with 15% and Robert refuses. They confer and counter with 20%. The highest they'll go is 25%. Daymond jumps in and offers $100,000 for 20%. They waffle and Daymond goes out. Robert goes to 28%. The guys decline and say they didn't think Robert's heart was in it.
Driftline Shark Tank Update
The Shark Tank Blog constantly provides updates and follow-ups about entrepreneurs who have appeared on the Shark Tank TV show. In the week after the original air date, they sold out of their inventory. It took them almost 2 months to re-stock. They sell the suits on their website and at two retail locations: West Coast Paddle Sports in Clairemont and the Alila Marea Beach Resort. The Shark Tank Blog will follow-up on Driftline & Wes Horbatuck and Greg Orfe as more details become available.