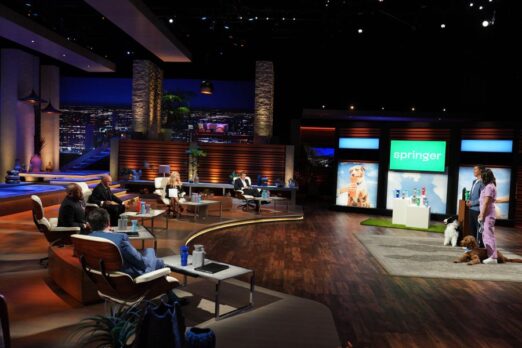 Siblings Griffin and Shannon Ross introduce the Sharks to Springer, their water bottles for dogs, in Shark Tank episode 1324. The business is co-owned by their mother, Diana. The family are no strangers to entrepreneurship. In 1983, their father, Gary, founded Highwave. That company is hugely successful selling everything from water bottles to wine stoppers. Springer is a spin-off of Highwave's pet products. The water bottles for dogs were formerly called the Auto Dog Mug.
The Covid-19 pandemic was good to the business. Pet ownership increased as people were seeking companionship during the lock-downs. All that stimulus money led people to try new products for their furry friends. Since most people decided to travel by car instead of planes, dogs came along for the trip and travel related pet products as a whole saw an uptick in sales.
The product itself is a water bottle with a small bowl on top. When you squeeze the BPA free plastic bottle, the bowl fills up for your dog to get a drink. When your pup is done drinking, release your squeeze and the water drains back into the bottle. It's leak proof and it even comes with a carabiner to clip onto a backpack. The bottles come in three sizes: mini, classic and growler. They cost $22, $25 and $28 respectively. They also sell water bottles for people, some toys and some "swag." The Ross siblings likely want a Shark's help scaling the business.
Company Information
Video

Posts about Springer on Shark Tank Blog
Springer Pets – Doggie Water Bottles
Springer Shark Tank Recap
Griffin and Shannon enter the Shark Tank seeking $400,000 for 6% of their business. Shannon talks about how dogs go everywhere with their people. They demonstrate "hand bowls," and portable bowls. Next, they demonstrate their bottle. They say their are more products in the pipeline. The Sharks examine their samples as Griffin and Shannon talk about their dad's contribution to the business.
They have 8 patents covering the dog bottles. 2016 sales were $711,000. The next few years, they did $650,000-$750,000 and in 2020 they had $1.7 million in sales. They only made $100,000 on that because they plowed a lot of money back into the company. On average, the bottles cost $3 to make and they sell for 88% margins. The Sharks question where the money went and they said they spent a lot of money on things.
Mark says he doesn't think they have enough sales; he's out. Daymond doesn't like the valuation; he's out. Robert says he doesn't like the fact that they have large salaries; he's out. Kevin offers $400,000 for 2% with a $3 royalty until he recoups his money, then the royalty goes to $1.50 in perpetuity. Lori loves it, she offers $400,000 for 10% and she wants preferred stock. The siblings confer and take the deal.
Springer Shark Tank Update
The Shark Tank Blog constantly provides updates and follow-ups about entrepreneurs who have appeared on the Shark Tank TV show. The first re-run of this episode in August, 2022, is 3 months after the original air date. As of this date, the deal with Lori has not closed.
In November, 2022, the deal with Lori did not close. The company added a leash with a travel pouch to its line. Reliable revenue figures are unavailable at this time.
The Shark Tank Blog will follow-up on Springer & Griffin and Shannon Ross  as more details become available.