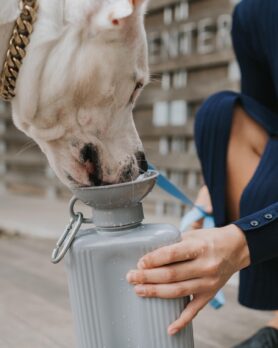 Springer Pets actually is a spin off business of another company. Brother and sister team Griffin and Shannon Ross, along with their mom, run the business. Since 1983, their dad has been running a business called Highwave. That business makes eco friendly water bottles and all sorts of other products. They used to sell a product called the Auto Dog Mug. That product became the flagship of the Springer Pets line.
Griffin and Shannon both still work at Highwave. Griffin is a designer/engineer and Shannon is the chief marketing officer. They noticed that during the Covid-19 pandemic, sales of the Auto Dog Mug spiked. Shannon says it's because a lot of people got new dogs and that travel habits changed – more people drove to destinations than flew and they brought their dogs. Millennials in particular treat their dogs like their children and aren't afraid to spend on their "babies."
With that in mind, they spun off Springer Pets in July 2021. They only sell the doggie water bottles and some other dog related stuff. As for the bottles, if you look at the picture above, it looks like a regular water bottle with a mini bowl on top. When you squeeze the bottle, the bowl fills for your dog to get a drink. When she's done, stop squeezing and the water drains back into the bottle. It's totally leak-proof and it comes with a clip to attach to a back pack. The Ross' are likely in the Tank for publicity, but they may do a Shark deal for the cache.
My Take on Springer Pets
I've actually seen this product in action. A few years ago, I was walking Zoey (my dog) through downtown during an art festival and I saw a woman giving her dog a drink with it. She called it the Auto Dog Mug and said she'd received it as a gift. I thought it was cool at the time. Little did I know then it would be on Shark Tank!
I have a very active American Bulldog. We go to the beach and the dog park all the time – in fact we were at a dog park the day I wrote this. The dog parks around where I live all have running water in bowls for the dogs to drink. The beach is another story. We schlepp a water bowl and water bottles there. Springer's water bottles would be a good product for the beach trips and for when we travel long distances by car with the dog. I'm in.
Do Sharks Like Dogs?
There's probably only two Sharks that would be interested in this business. I think Mark will think it's too niche. Mr. Wonderful will likely share that sentiment, but if the sales numbers are there, he might bid.  We all know Robert is a dog lover. He gets sentimental about pet products and their mascots, but he's never invested in one.
That leaves Daymond and Lori. Both Sharks have invested in multiple pet product businesses. Most recently, Lori invested in Swift Paws – a business that earned season 13's "golden ticket" from her. Daymond invested in pet related businesses too, like season 6 business Turbo Pup and others. Daymond is also on the board of the Petco Foundation. If Springer Pets gets offers, it'll be from Lori or Daymond.