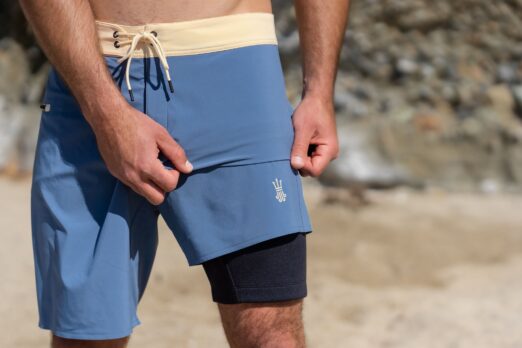 Wes Horbatuck and Greg Orfe created Drifties Boardshorts to solve a very real problem they were having. The guys are both surfers. In the summer, they wear regular boardshorts and in the winter, they wear wet suits. They wanted something for fall and spring when the water is too warm for a wet suit and too cold for a regular bathing suit. They claim during these seasons, their "unmentionables" were uncomfortable.
The guys looked around for a product that would solve their problem and when they couldn't find one, they invented it. That's how Drifties were born. The company is called Driftline and the product is regular boardshorts with a wet suit like neoprene liner. This keeps the aforementioned "unmentionables" cozy in chilly water. The lining also prevents chaffing – a common problem when boardshorts meet salt water.
Drifties aren't only for surfers either. Wakeboarders, swimmers, kayakers, paddle boarders and basically anyone who is on or in the water during the "chilly but not cold" periods can benefit from them. The design of wet suit lined board shorts is patent pending. In addition to the Drifties, they also sell Sessions, which are just regular board shorts. The guys are bringing their product to the Shark Tank in episode 1324. Will the Sharks chomp these surfers?
My Take on Drifties
I live in Florida and my wife and I like to go to the cool water springs in the north central part of the state. There are literally hundreds of them, some on private land and others in state parks. All the springs are a constant 72 degrees. Our goal is to get to as many different ones as possible. In the winter, we go to the springs and swim with manatees who seek out the springs to escape the colder waters of the Gulf of Mexico. When we do this, we wear our wet suits.
In the summer, Florida is oppressively hot and humid. Wet suits are out of the question. Besides, a plunge into that 72 degree water is very refreshing and the only thing that keeps me from staying in longer is some "unmentionable" comfort. Drifties would totally fit the bill for a summer dip in the springs. I'm in the market for a new bathing suit and even if they are a tad pricey at $89, I think I'm going to grab a pair. Like my wet suit, I'll view it as an investment. I'm in.
Do Sharks Want to Surf?
Whenever any kind of apparel company comes on the show, you have to think Daymond is a "target" Shark, but I don't think he bites on this. The same goes for Lori. Even with a patent pending on the boardshorts, she usually passes on apparel businesses. We may see a what is becoming routine royalty offer from Mr. Wonderful, but I doubt it.
That leaves Mark and Robert. Robert has invested in several online apparel companies like Butter Cloth, Bad Birdie and Tipsy Elves. He understands the online apparel model and could be a good partner. Mark, on the other hand, invested in Tower Paddle Boards back in season 3. That company has since morphed into a "beach lifestyle brand." Drifties fit the beach lifestyle and if Mark sees some synergy, he could make an offer too.