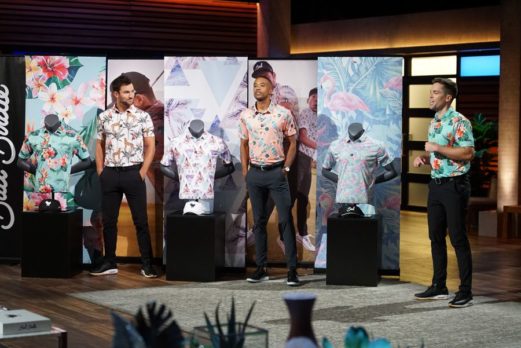 Jason Richardson hopes to shoot par when he takes a swing in the Shark Tank and introduces Bad Birdie, his line of colorful golf shirts, in Shark Tank episode 1119. Richardson spent most of his career shooting and producing commercials for big companies. He's always loved golf and he enjoys his time out on the course. He claims his favorite golf phrase is "swing hard."
While he likes golfing, he didn't like the boring golf shirts that were available, so he started Bad Birdie. He wanted to make shirts that weren't "grandpa shirts." The colors and patterns are wild, fun and bright. Some even look like Hawaiian shirts. He also sells hats, socks and sweatshirts.
Jason became interested in golf when he was a caddy at age twelve. He likes playing and attending tournaments. He first debuted Bad Birdie shirts in public at the Waste Management Open in Scottsdale, AZ. People reacted positively to the shirts and he began selling them shortly thereafter. The target market is 18-35-year-old males who golf.
Most polo shirts are $72, but some sell for $55. Right now, Bad Birdie is strictly direct to consumer from the company website, but they want to get product into pro shops and other retail outlets. They also do group orders. Richardson likely wants a Shark to help him get into the pro shops and to help increase sales. Will a Shark think this shirt business is a good fit?
Company Information
Video

Posts about Bad Birdie on Shark Tank Blog
Bad Birdie Shark Tank Recap
Jason enters seeking $300,000 for 10% of his business. He explains how he uses limited edition shirts with specific release dates to drive demand. The Sharks like that he did over $1 million in sales in 2019. Most sales are online, but he's exploring retail options.
The Sharks disagree with the retail idea. He has strong sales and engages well with his demographic. They think he should just continue doing what he's doing. Once the back and forth about retail is done, the offers come. Kevin offers $300,000 for 30% with a contingency: Jason can NOT go into retail.
Robert says he trusts Jason and offers $300,000 for 25% with no contingencies. Jason tries to get Robert down to 20% but Robert won't budge. In a Shark Tank first, Jason proposes a putting contest. If Robert sinks the putt, Jason will accept the 25% offer, if Robert misses, the deal is for 20%. Robert misses! As I correctly guessed, Robert and Jason do the deal.
Bad Birdie Shark Tank Update
The Shark Tank Blog constantly provides updates and follow-ups about entrepreneurs who have appeared on the Shark Tank TV show. Robert did close the deal with Jason and displays the business on his website. The website has been "juiced up" a bit since the original air date, but not much has changed with the business. In 2020, the company moved to Arizona.
The Covid-19 pandemic caused 90% of the company's vendors to cancel orders in March, 2020. There was a silver lining however. Golf saw a huge resurgence as a safe socially distant activity. Sales came roaring back, but they had issues keeping items in stock due to the Covid-19 pandemic.
On a lighter note, Jason knew he couldn't out negotiate the Sharks, so he had the putting contest idea planned ahead of time. He said it was a risk he was willing to take and he'd do it again.
By June, 2021, the supply chain issues were resolved. In November, 2021, the company opened a brick and mortar store in Scottsdale, Arizona. By January, 2022, the were in over 1,000 retail stores nationwide including Nordstrom, PGA Tour Superstore and premium pro shops. As of May, 2022, annual revenue is between $6-$7 million.