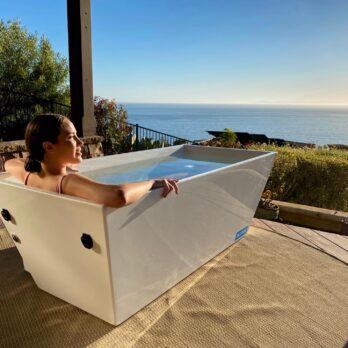 Michael Garret and Ryan Duey want the Sharks to take the plunge and invest in Plunge, their cold therapy tubs, in Shark Tank episode 1322. Cold therapy has been around for a long time. Athletes have used ice baths to help with pain and physical recovery for years. It has other benefits, too. Cold plunging increases your body's output of dopamine which has a calming effect. Frequent cold plungers will see an increase in white blood cells which enhances your immune system. It also improves circulation and reduces joint and muscle pain.
Both Garret and Duey share a love of float therapy. Each of them owns their own float therapy spa, Duey's is in Sacramento and Garret's is in San Francisco. Both men are proponents of cold plunging. They met when Ryan was first starting out and went to meet Michael. They became fast friends and six years later, they were in business together with The Plunge Tubs.
They really got down to business when Covid-19 hit. They'd been thinking about making their own, more affordable cold plunge tub for a while, but when the governor of California shut them down due to Covid-19 restrictions, they had the time to build it – with the help of Garret's father. The tubs get water down to 39 degrees. With a heater add-on, it doubles as a hot tub too. The claim they want cold plunging to be as ubiquitous as coffee. A Shark can help with that.
My Take on The Plunge Tub
In north central Florida, there are cool water springs that stay 72 degrees all year long. For the past few years, we've been going to visit them (there are literally hundreds of them) both in the winter and summer. In the winter, it's really cool because the manatees flock to the springs to escape the much colder ocean water. We use wetsuits in the winter to snorkel in the springs. One time I snorkeled with a mama and baby manatee. It was so cool.
Summers in Florida are oppressively hot and humid. The place to be is on the water – anywhere. It's a great time to visit the springs. I don't use my wetsuit in the summer. Taking the plunge into that cool water is very refreshing! While it's not as cold as these tubs, I can tell the benefits are there. Doing cold plunges after a sauna has been around for hundred of years for a reason.
Will Sharks Like Cold Water?
This doesn't seem like a Sharky product. The tubs are fairly expensive at $4999.00-$6990.00. Those prices, while a good value for a cold plunging tub, will keep a lot of people away. The Sharks may also view it as "too niche." Those two things are big strikes against getting a deal. I wish the guys luck, but my "spidey sense" is telling me there's no deal.