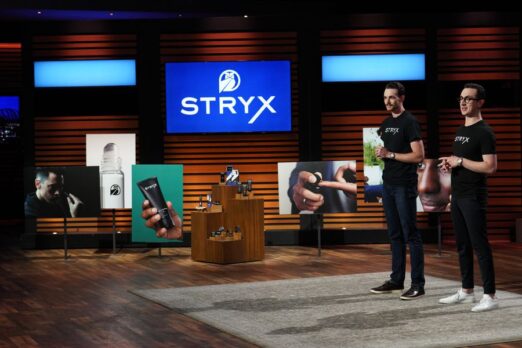 Jon Shanahan and Devir Kahan in Shark Tank episode 1324. The guys created the business after a "pimple nearly ruined a wedding." Devir had a big zit on his wedding day that is forever memorialize in his wedding photos. After that, he set out to create what he says is the first line of cosmetics for men. When he heard other men had similar stories, he developed his first product: the Concealer Tool for covering up unsightly zits.
Jon was a YouTuber who did video reviews about men's style. He got a lot of free samples for review, including the concealer tool. As luck would have it, he had a huge zit the day he received it and he saw that it worked. When Jon called Devir for more information, he was hired as Chief Marketing Officer.
The company was founded in January, 2019. They Kickstarted their business when they raised $11,834 back in March, 2020 to produce their cosmetic stripping face wash for men. Other products include an anti shine tool, lip balm, tinted moisturizing gel, an energizing eye tool and their all new pimple patches.
Men have bigger pores than women and their skin is rougher and oilier, hence the "just for men" formulations. Jon set to marketing the products on Tik Tok and they were an immediate hit. The company had $1.5 million in sales for 2021. They also raised an additional $1.7 million in venture capital. You can find Stryx on their website, CVS and Target. They likely want a Shark's help managing their rapid growth.
Company Information
Video

Posts about Stryx on Shark Tank Blog
Stryx Shark Tank Recap
Jon and Devir enter the Shark Tank seeking $600,000 for 5% of their business. The Sharks collectively groan at the valuation. The guys say everyone in the Tank is wearing makeup, then they unveil a photo of Devir's famous wedding zit. Devir tells the backstory of how he came up with the idea for men's makeup as a result. They say they're the first makeup line for men.
The Sharks examine their samples. The concealer is designed to dab on and conceal. Men used it to cover bags on their eyes. Robert says he's used eye concealers before. They started by formulating with professional makeup artists. Devir raised $500,000 at a $1.5 million valuation to get things going in 2018.
So far in 2021, they have $130,000 in sales which draws more groans from the Sharks – then they say that's per month sales. Lifetime sales are $2 million. 90% of sales are direct to consumer on their website. Last year they launched in CVS where they're in the men's shaving aisle. The products average $30 with an 85% margin. The two guys only own one third of the company. They've raised a total of $1.5 million and they're burning $40-$50,000 per month.
Mark questions going into retail because it's expensive. He thinks they'll have to raise more money. Lori doesn't like the packaging; she's out. Daymond says it's not for him; he's out. Mark likes the product but not their approach; he's out. Kevin offers $300,000 as a loan and $300,000 equity for 2.5% plus a $2 royalty until he recoups his $600,000. After that, the royalty drops to 25 cents. Robert mocks Kevin's offer and says he likes their sales. He offers $600,000 for 10%. The guys counter with 7.5% and Robert declines. They ultimately go with Robert.
Stryx Shark Tank Update
The Shark Tank Blog constantly provides updates and follow-ups about entrepreneurs who have appeared on the Shark Tank TV show. The first re-run of this episode in August, 2022, comes just 3 months after the original air date. As of this date the deal with Robert has not closed.
The deal with Robert did not close. In November, 2022, the products are no longer in CVS, but they are nationwide in Target and Urban Outfitters. 2022 revenue is expected to be around $1.5 million.
The Shark Tank Blog will follow-up on Stryx & Jon Shanahan and Devir Kahan  as more details become available.
The products