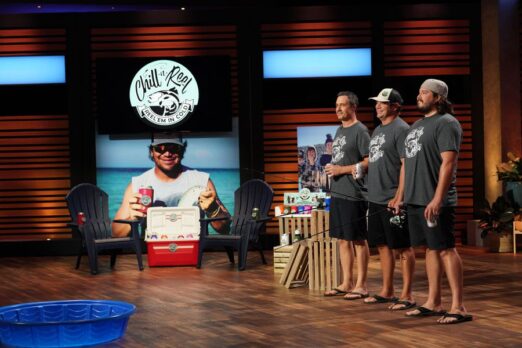 Chris Diede, Jake Rutledge and Chase Terrell hope to catch a Shark with Chill n Reel, a koozie that's also a fishing reel, in Shark Tank episode 1324. Jake came up with the idea while vacationing in Destin, FL in 2017. He was wading in the Gulf of Mexico and he saw a lot of fish around him. He fastened some fishing line to his koozie and actually started catching fish! The problem was, he kept spilling his drink every time he caught one.
When he returned to Oklahoma, where he's a fireman, he built a prototype. Upon his return to Destin a year later, he brought his prototype. He claims 50 people tried buying it off him. When he sold over 50 Chill n Reels to his fellow firefighters, he enlisted some help. Chase is the head sales guy who works the trade shows and is the company "Carnie Pitchman." Chris is the eCommerce and Marketing guru.
They got things ramped and ready in 2019, but in 2020, the Covid-19 pandemic derailed their plans as tradeshows were cancelled. Despite that, they still managed to sell 5000 units in 2020. The product is patent pending and it's the only drink cooler that's a fishing rod on the market. They sell for $12 on the company website and Amazon. Sharks know how to catch fish and Jake hopes he catches one to help him blow up the business.
Company Information
Video

Posts about Chill n Reel on Shark Tank Blog
Chill and Reel – Fishing Koozie
Chill n Reel Shark Tank Recap
Chris, Jake and Chase enter with fishing rods in their hands seeking $300,000 for 10% of their company. They cast their rods, then try to open their beers with limited success. Then they unveil their product. The Sharks are amused as they explain and demonstrate the product.
Lori wants to know where the rod is. It comes with 8 pound test. They show a video of Jake catching a fish in Florida. Jake tells the story of how he got the idea and he explains his background. In the last 12 months, they have $1.34 million in sales; the Sharks are amazed. This year (summer 2022) they are at $760,000 so far.
Kevin calls it a "piece of crap." They cost $2.60 to make and sell for $12.95. 40% of their sales are spent on marketing. Last year they made $70,000 and this year they are negative $25,000, but they have $350,000 worth of inventory in their warehouse.
Kevin respects the sales, but it's too much of a piece of crap for him; he's out. Lori says it's not investable; she's out. Daymond thinks it's a fun business but he goes out. Mark says there isn't enough margin; he's out. Robert offers $300,000 for 10% and a $2 royalty per unit in perpetuity. Jake counters with $300,000 for 15%, Robert comes back with 35%. They counter again with 20% and Robert says no. They leave without a deal.
Chill n Reel Shark Tank Update
The Shark Tank Blog constantly provides updates and follow-ups about entrepreneurs who have appeared on the Shark Tank TV show. The first re-run of this episode in August, 2022 is just three months after the original air date. Jake said he would catch another Shark. There isn't much new information on this business at this time. The Shark Tank Blog will follow-up on Chill n Reel & Chris Diede, Jake Rutledge and Chase Terrell  as more details become available.