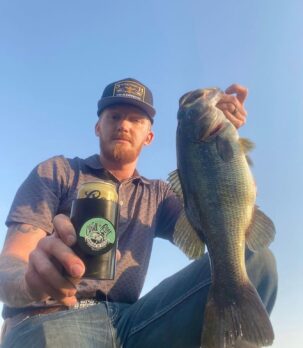 Jake Rutledge invented Chill and Reel because he likes to do two things while he's at the beach: drink and fish. In 2017, while vacationing in Destin, Florida, Jake was wading in the Gulf of Mexico and he noticed a crap-ton of fish swimming around him. He didn't want to use his fishing pole because it would attract too much attention to his "honey hole," so he wrapped some fishing line around his beer koozie and started catching fish. The problem was, he kept spilling his beer. He thought, "there has to be a better way."
When he returned home from vacation, he started tinkering and the Chill and Reel was invented. It's basically a drink koozie with a small fishing reel attached to it. While it's not meant for big game fish, there have been some big fish reeled in on them – even a bonnet head Shark! They only cost $12.99 on the company website and Amazon.
The company has reeled in more than fish, they have some serious sales too. When they were featured on a local Tulsa news station, they got 1500 orders and netted $15,000 in cash. That's when Jake's brother in law, Chris Diede (who also appears on the show), entered the picture. Chris has a substantial digital marketing background. He built a professional website, developed an advertising strategy and helped the product take off. 10 months after Chris entered the picture, they had over $1 million in sales. Now, they want to reel in a Shark.
My Take on Chill and Reel
I do quite a bit of fishing. I moved to Florida to be able to fish every day, and I do – weather permitting. Most mornings I go to my local fishing pier less than a mile from my house. Some days I stay an hour or two, some days I spend all day. I've caught sharks, king mackerel, cobia and a ton of other fish at the pier. Every month or so, I'll do a charter fishing tour with some friends and we go off shore for grouper, red snapper and whatever else is biting. I love fishing.
That said, I used to have a hard and fast rule: I don't drink when I'm fishing and I don't fish when I'm drinking. Knives, sharp hooks and things with big teeth don't go good with alcohol. That changed last fall on a red grouper charter we went on. The other five guys started knocking back beers at eight in the morning. That day we got off to a slow start fishing. By noon, we only had two red grouper and a couple of snappers in the boat.
The guys goaded me into having a drink, so I poured a small glass of the bourbon I brought for the ride home and took a few sips. Wouldn't you know, the fishing lit up after that and in just two hours, we hit the limit for the boat! On every subsequent trip, I am now required to take a small drink before we depart. To date, it's worked! While I'm not sure if the Chill n Reel is capable of handling the type of fishing I do, it would work for getting small fish for bait. I'll probably get one, I'm a fisherman after all.
Will Jake Catch a Shark?
Whether this business gets a deal or not, I'll bet the house that they sell out on show night. Fishing products have fared well in the Tank in the past. Mark invested in Shell Bobbers and The World Record Striper Company in the past. Both businesses did well. This is a business that, if the numbers work, will likely get some offers.
Lori could sell it like crazy on QVC. Robert is outdoorsy and into businesses that do digital marketing. Daymond is an avid fisherman, so he will have interest. Kevin will call this a "rubber chicken" type of opportunity and will likely fashion a royalty deal. Mark will make an offer too and I think Jake and company will accept Mark's offer.