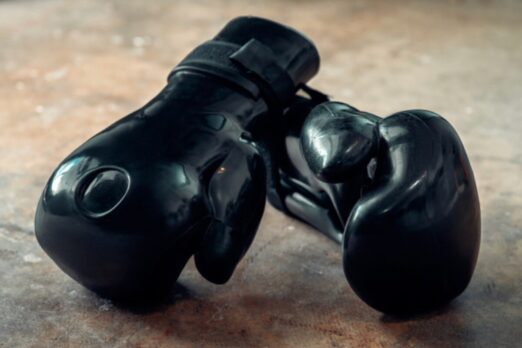 Tony Adeniran invented Aqua Boxing Gloves to give people a boxing workout without going to the expense of buying and installing a heavy bag. Boxing is a good workout for anyone, whether you're a pro or just want to get in fighting shape. Boxing improves balance, helps posture,  strengthens upper body and core, boosts endurance and more. That's where Aqua Boxing gloves come in.
The secret sauce is the bladder inside the glove you fill with water. It will hold enough water to make each glove weigh anywhere from 1.5 to 5.5 pounds. When you punch with the glove, the water sloshes forward creating what Tony calls "fluid resistance."  This lets them dynamically respond to changes in direction or speed. Weighted gloves do not offer this benefit. You also don't have to worry about impact related injuries from hitting the heavy bag. Aqua Boxing Gloves aren't meant for hard contact with a heavy bag or another person. You can hit the smaller punching bag safely.
As of the date of Tony's Shark Tank pitch (May 20, 2022), the product is available on a pre-order basis only. A pair of the gloves will set you back $99 when available. Tony did run a Kickstarter for the gloves that raised $40,706 in September, 2021, but he has yet to deliver those products to backers. He likely wants a Shark's help getting over his manufacturing challenges.
My Take on Aqua Boxing Gloves
When I was growing up, there was a kid in my neighborhood who had a heavy bag in his garage. There would always be a crowd there after school and we'd hit the bag before playing street hockey. I also hit the heavy bag as part of my workouts in college. Since graduating, I haven't hit one since.
Hitting the heavy bag is a good workout, but, as Tony says, they're expensive and take up a fair amount of space. His product makes a lot of sense and I totally get how it works. For $99, it's a relatively inexpensive training tool. Whenever it becomes available, I'm gonna get one.
Do Sharks Like Boxing?
The biggest objection Tony will face is the Sharks might think it's "too niche." That aside, it's a fitness product at it's core and several Sharks have invested in fitness products in the past. Mark, Lori and Barbara have all invested in fitness products – whether another in their portfolio would be a conflict of interest remains to be seen. I'm not sure where Kevin Hart stands on fitness products.
I don't think Tony gets a deal here. The main reason is he's not touting his appearance on the show. There's no mention of it on his website or social media. In fact, his social media is pretty sparse overall. If you are going on Shark Tank, you need to shout it out from the rooftops. The fact that he hasn't delivered Kickstarter products yet and the lack of enthusiasm from Tony's web properties makes me think there's no deal here.