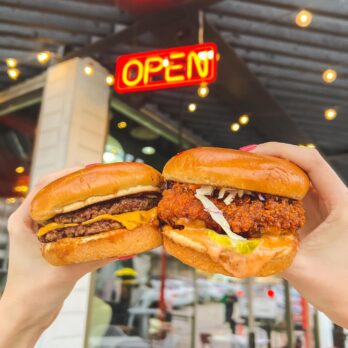 Lucas Bradbury started his Project Pollo restaurants out of a food truck to give him proof of concept. His plant based "chicken" sandwiches were an instant hit. Since that fateful day in 2020, he's grown from the single truck to 12 brick and mortar stores with four more in the works by the end of 2022. Bradbury wants to expand his empire nationally stating he wants to be as big as Chik-Fil-A.
The fare at Project Pollo restaurants isn't much different than other fast food joints. The only difference is everything is vegan. Whether you want a "burger," a "chicken" sandwich, nuggets, fries, mac n cheese or a milkshake, they're all plant based. Bradbury thinks plant based protein is the future and he wants his restaurants to be a leader in the space.
He was a little more candid with the Dallas Morning News than most entrepreneurs in pre show interviews. He asks the Sharks for $2.5 million for 5% of the business. Since he taped the episode back in September, 2021, he says that valuation is "a bargain now." Bradbury also said one of the Sharks said it was the best chicken sandwich they ever had. Finally, he said he wasn't on Shark Tank for a lifeline, he wanted to tell his story. Whether he scores a deal or not, Project Pollo restaurants are planning on a national expansion. Nevada and Arizona are his next target territories and he has ambitions of opening 100 stores in the next 3 years. We'll see if a Shark joins him for the ride.
My Take on Project Pollo Restaurants
My oldest daughter is vegan. When she visits, I get her vegan "chicken" patties and they're actually pretty good. I'm sure Project Pollo makes better ones though. I'm still a carnivore, but I'm not averse to trying vegan options. I tried Atlas Monroe, a vegan fried chicken featured in the Tank back in season 11 and it was very good. If Bradbury even comes close to that, he has a winner.
I tried Burger King's vegan burger a few times and if you didn't tell me it wasn't meat, I wouldn't have know. I'm all for vegan meat options because the meat industry is a big polluter. If we can have a vegan option that looks and tastes like chicken or burgers, I am in.
Do Sharks Like Chicken?
I don't know what to think of this one. If he really goes in the Tank with a $50 million valuation, he'll face a lot of push back. That said, a deal could still be made. Mark has made quite a few investments in plant based food businesses and he's invested in restaurants too. Mark isn't investing in anything for 5% though. The other Sharks will feel the same way.
Since Bradbury is interested in telling his story, he could accept a "Sharky" offer onstage and quash the deal later. Either way, he'll get his chance to put the business  in the national limelight. Even though they don't offer franchises at this point in time, I think we'll be seeing more Project Pollo Restaurants in the future – with or withou a Shark.