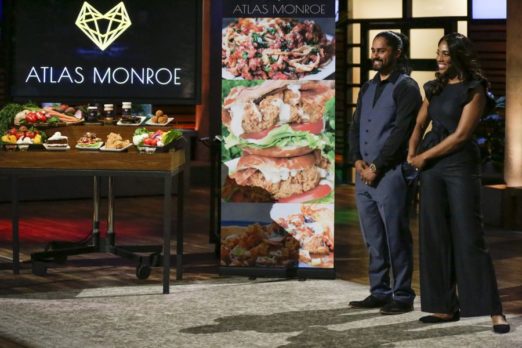 Jonathan and Deborah Torres want a feeding frenzy for Atlas Monroe, their vegan catering business that sells food online, in Shark Tank episode 1102. Formerly known as Veganation, Atlas Monroe is literally taking the food world – both vegan and carnivore – by storm. Their vegan foods mimic foods carnivores like and they've won accolades for their creations.
Deborah grew up eating lots of meat and discovered the vegan lifestyle after gorging on her parent's meat-laden diet over the course of a weekend. She left home to travel for a year and came home to find her dad had diabetes. After some online research, she determined a vegan diet might be able to help her dad. When the family tried veganism out for 30 days, her dad was cured. Thus began her vegan lifestyle.
The company began as one of many vegan options in the San Francisco Bay area in early 2017. They began catering and delivering in the south bay area and became a huge hit locally. The company initially cooked everything to order with a several hour lead time. Once they became known, things took off. They now sell online and distribute their "chicken" to several restaurants.
As a testimony to the quality of their food, Atlas Monroe's vegan fried chicken WON "Best Dish" at the 2018 National Fried Chicken Festival; they were the only vegan vendor at the festival. Their other dishes mimic real meats like bacon, ribs and turkey. Atlas Monroe believes promoting veganism "doesn't have to be bland." Deborah and Jonathan like want a Shark to help them ramp up their online sales capabilities. Will the Sharks like their food and invest?
Company Information
Video

Posts about Atlas Monroe on Shark Tank Blog
Atlas Monroe Shark Tank Recap
Jonathan and Deborah enter seeking $500,000 for 10% of their business. The Sharks LOVE the "fried chicken," but they don't like the valuation. They're also concerned when the entrepreneurs are reluctant to talk about sales. Jonathan and Debra further confuse the Sharks when they finally do give out the number. Kevin says they're "backwards."
Kevin says he'd need 120% of the business to make an offer. Barbara says they're too early for investors. The pair also claims they are on the verge of doing a "big deal" with a national company. Despite the confusing pitch, Mark makes an offer of a $500,000 line of credit for 30% of the business. Then he asks Rohan to come in with him. The two Sharks offer $1 million for the entire business and they'll give Jonathan and Debra a 10% royalty on sales. Deborah says the fact that they offered $1 million proves they're worth it and they decline the offer.
 Atlas Monroe Shark Tank Update
The Shark Tank Blog constantly provides updates and follow-ups about entrepreneurs who have appeared on the Shark Tank TV show. The business is still operational as of July, 2020, but no "big deal" has been announced.
In April, 2021, the company revealed it had opened a "multi million dollar" manufacturing facility and it had done over $2 million in sales since appearing on the show. They are currently looking at a second facility and expect to have sales of $24 million in another year.
In August, 2021, Deborah told Green Matters "Atlas Monroe's vegan fried chicken is set to debut in Bristol Farms, a California-based grocery chain, this month. And, in time for Easter 2022, Atlas Monroe will be entering a major American grocery chain with markets all across the nation — but Torres can't publicly reveal the store just yet." Projected sales for 2021`are $2 million.
In January, 2022, Jonathan was no longer involved in the business. The company also announced they will be supplying Canadian Restaurant Chain Copper Branch with their chicken for a Nashville Fried Chicken Sandwich. They also introduced Atlas Monroe 2.0, a  'white meat' version of their product. The products can be found at Bristol Farm's Newfound Markets. As of May, the grocery deal is still in the works, but Torres still isn't talking.
By November, 2022, the company has products in more restaurants. They include all 40 Copper Branch restaurants, Birdguesa in Dallas, Pure Soul Plant-Based Eats and Magpies in Sacramento, Cafe Organix in San Bernadino, Kensho Social in San Jose, Loving Hut in San Diego, Rootz Soul Café in Fort Lauderdale, The Krazy Vegan in Miami, Urban Vegans in Cinncinnati, JMT Sweets & More in Chesapeake, VA, and Naked Vegan in Greeneville , SC. They also offer delivery service through a ghost kitchen in San Diego.
They also introduced more products like chicken fajitas, pasta bolognese sauce, chili and more. As of March, 2023, the "major" grocery deal is still in the works, but Torres still isn't talking. Annual revenue is estimeted between $5-$7 million.
***Editor's note: I've tried the "chicken" and it's excellent!