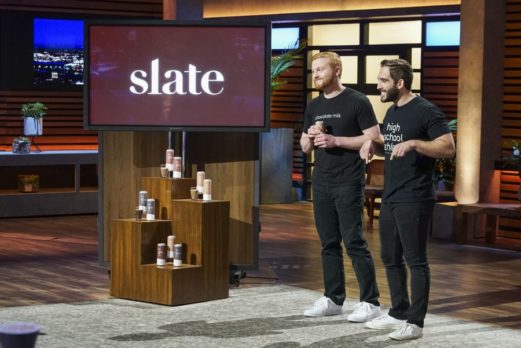 Manny Lubin and Josh Belinsky, founders of Slate, a Boston-based startup, want the Sharks to invest in their chocolate milk for millennials in episode 1124. The pair are friends who graduated Northeastern University together and share a love for a childhood favorite drink: chocolate milk. The problem with chocolate milk is it's loaded with sugar and lactose. Both men are lactose intolerant, so they needed a chocolate milk drink that was lactose free and a bit more hip than that bottle of YooHoo they drank as kids.
What they did was use an ultra filtration system that strips milk of fat, sugar and lactose. Then they add cocoa and sweeten it with monk fruit. The result is a chocolaty, not too sweet, protein packed drink that has just 9 grams of sugar and 17 grams of protein. The product lasts a year without refrigeration and comes in sleek, tan cans that a millennial won't be embarrassed to carry around.
They got their business of the ground with a Kickstarter Campaign that raised $51,833 and an IndieGoGo campaign that raised $53,438. Both campaigns funded in the spring of 2019 and they just started shipping at the beginning of October. Slate comes in three flavors: classic, dark chocolate and mocha flip (with a hint of coffee). They sell them online in 12 packs for $36 ($3 per 11.1 ounce can). It's currently only available for pre-order on their website, but they will ship to their backers in October 2019.
They likely want a Shark's help funding further production and expanding distribution.
Slate Company Information
Video

Posts about Slate on Shark Tank Blog
Slate Shark Tank Recap
Josh and Manny enter seeking $400,000 for 10% of the business. They explain their business and special ultrafiltration method and hand out samples. The Sharks don't like the taste! They also don't like that the company is pre-sales; the valuation is out of whack.
When questioned on the valuation, they explain their vice president is a power player in the food business. The Sharks can't get past the taste and the zero sales and drop out one by one.
**To be fair to Slate, the segment was filmed over a year before it aired. At the time, they were pre-revenue. When they aired, they had a different formula.**
Slate Shark Tank Update
The Shark Tank Blog constantly provides updates and follow-ups about entrepreneurs who have appeared on the Shark Tank TV show. The product is available in many supermarkets in the north east and down the east coast. Roche Brothers, Harris Teeter, Whole Foods and a bunch of independent grocers carry the brand.
In February, 2021, the company raised $1.7 million in a seed funding round that helped them amp up distribution to over 3000 stores. In addition to the chains listed above, they are in Giant, Giant Martin's, Hannaford, Bristol Farms, Central Market and Publix. As of July, 2021, the company is earning $1 million in annual revenue. In October, 2021, they did another extended seed fundraising round at $3.3 million.
In January, 2023, the company raised another $10.3 million to introduce its new drink mixes and to roll out national distribution. The mixes can go into a glass of water or milk and come in vanilla or chocolate flavors. As of July, 2023, the products are in over 5000 stores nationwide and hundreds of gyms and fitness centers.