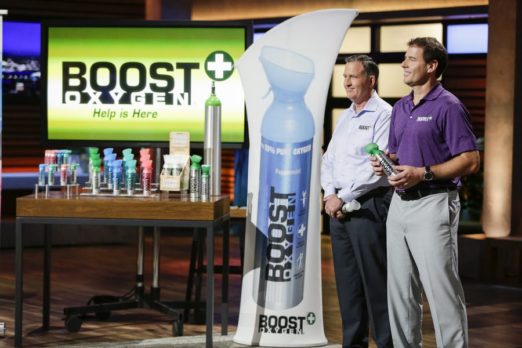 Mike Grice and Rob Neuner hope to get a boost for Boost Oxygen, their "Supplemental Oxygen" company, in Shark Tank episode 1102. Neuner founded the company in 2007. He'd spent several years in Europe as a beer importer and he noticed oxygen selling in cans everywhere he went. He started using the cans to combat his frequent jet lag and as an energy booster for his triathlons. Once he decided to start selling canned oxygen in the USA, Boost quickly became the top selling canned oxygen brand in the world.
Oxygen has many health benefits. It has many of the benefits of an energy drink, without the caffeine and sugar. Boost is "aviator grade" oxygen which provides metabolic benefits to users. Cells burn oxygen and if your body isn't getting enough, cell metabolism gets slowed and you feel sluggish.
Boost does NOT replace medical oxygen. The product is 85% pure and intended for recreational use whereas medical oxygen is 99% pure. It comes in 3 "aromatherapy flavors," pink grapefruit, peppermint and menthol. It's available online at Amazon and at CVS stores nationwide. A pocket-sized can costs $7.99 (about 40 inhales). A medium can is $9.99 (about 100 inhales) and a large can is $14.99 (about 200 inhales). There are discounts for buying in bulk, too.
Boost just signed a deal with Major League Lacrosse. They are fairly well known in the fitness market and triathletes use the product often. They likely want deals with other sports organizations and probably want a Shark to help them grow even bigger.
Boost Company Information
Video

Posts about Boost Oxygen on Shark Tank Blog
Boost Oxygen Shark Tank Recap
Mike and Rob enter seeking $1 million for 5% of their business. They claim they want a Shark's help to expand retail distribution. Sales for the year are at $6.4 million with a profit of $1.5 million. While the Sharks like the numbers, there are concerns that the education curve for consumers is too steep. One by one, the Sharks go out.
Kevin floats an offer of a $1 million loan at 9% interest and he' wants 7.5% equity. After some haggling, they agree to a $1 million loan at 7.5% interest with Kevin getting 6.25% equity.
Boost Oxygen Shark Tank Update
The Shark Tank Blog constantly provides updates and follow-ups about entrepreneurs who have appeared on the Shark Tank TV show. This deal closed and Kevin actively promotes the business. The products are in CVS stores nationwide and in thirty other national chains like Dicks Sporting Goods and Bass Pro Shops. You can also order on Amazon.
The company gets an update segment in episode 1223. In the update, they  say they've done over $15 million since airing on Shark Tank (less than a year). The company expanded its retail presence from around 4000 stores to over 8000 stores including Kroger's and Walgreens. During the 2020 Covid-19 pandemic, the company donated to the food bank of Bridgeport, CT. Also, in the segment, Kevin touts the business, saying it could be "huge" going forward.
As of June, 2021, the company is crushing it with over $20 million in revenue projected for the year. They had to move to a new, 10,000 square foot facility to keep up with demand. In 2022, they opened a second, 38000 square foot facility which is capable of producing 50,000 cans per day. The products are available online and at thousands of US retailers including CVS, Albertson's, Dick's Sporting Goods, Lowes, Krogers and many more. As of August, 2023, annual revenue is approaching $50 million.