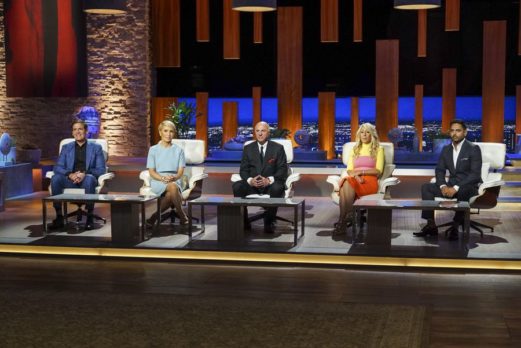 Rohan Oza returns as a guest Shark for episode 1102. He joins Mark, Barbara Kevin and Lori as they evaluate four new businesses seeking to use the Shark Tank effect to expand their businesses.
Koko Hyashi hopes to get a Shark to bite on Face Yoga, her regimen for maintaining a younger looking face. Mike Grice and Rob Neuner want a boost for Boost Oxygen, their recreational canned oxygen company that provides an oxygen energy boost in place of energy drinks. Jonathan and Deborah Torres seek an investment in Atlas Monroe, their vegan food/catering company that features vegan dishes disguised as carnivore favorites. Amber Leong hopes to light things up in the Tank with Circadian Optics, her line of bright light therapy lamps for adjusting the circadian rhythm.
Which business does a deal tonight?
Tonight's update segment features a look at MUSH from season 9. Mark invested $300,000 for 10% of the cold pressed oatmeal business. Tonight, we'll see how they've been doing the past two years.
The Sharks
---
Barbara Corcoran
Rohan Oza
There are 28 Shark Tank Episodes for Season 11. This season features more appearances by "guest Sharks," including billionaire Katrina Lake – Founder of Stitch Fix, Rohan Oza – "Brand Messiah" and founder of Vitamin Water,
Daniel Lubetzky – Founder of KIND, Matt Higgins – Entrepreneur and Miami Dolphins Vice-Chairman,
Maria Sharapova – Tennis Pro and Founder of Sugarpova and Anne Wojcicki – Founder of 23andMe.  Casting is currently closed, but it never hurts to get a head start on season twelve! If you would like to appear on the show, check out our Auditions and Casting information.
Episode 1102 – The Shark Investors and Entrepreneurs
The Shark Tank Episode 1102 entrepreneurs will make their best pitch to the panel of five Shark investors who will use their own money if they choose to invest. The Shark Investors negotiate on the spot without any previous information, which differs from typical negotiations between venture capital investors and entrepreneurial start-ups.
Companies pitching the Shark Investors must go through a rigorous due diligence process before an on-air deal is completed. Shark Tank Blog follow ups help you keep track of the companies that end up successful and the ones that don't complete their deal.
Thank you for reading SharkTankBlog, the number one site for Entrepreneurs, Investors and Fans. Our content updates multiple times day, giving you the latest information on Episode 1102, Season 11, and all other seasons and episodes.
Episode 1102 Press Release
Shark Tank: Episode 1102 (10/6)
Sept. 20, 2019
BRAND GURU ROHAN OZA RETURNS TO THE 'TANK' ON AN ALL-NEW EPISODE OF ABC'S 'SHARK TANK,' SUNDAY, OCT. 6
Episode 1102" – A Malaysian immigrant living in Minneapolis, Minnesota, fulfills her American dream by starting her light therapy lamp business. Entrepreneurs from Millford, Connecticut, introduce their portable oxygen in a can. An entrepreneur from Japan, living in Spring Valley, California, pitches her unusual solution to maintaining a youthful appearance. Finally, entrepreneurs from San Jose, California, with a plant-based version of a guilty pleasure make a shocking decision on "Shark Tank," SUNDAY, OCT. 6 (9:00-10:00 p.m. EDT), on ABC. (TV-PG, L) Episodes can also be viewed the next day on ABC.com, the ABC app and Hulu.
In a "Shark Tank" update, Ashley Thompson from San Diego, California, updates her investor Mark Cuban on MUSH, a healthy and convenient oatmeal snack.
The Sharks in this episode are Mark Cuban, Kevin O'Leary, Lori Greiner, Barbara Corcoran and guest Shark Rohan Oza.