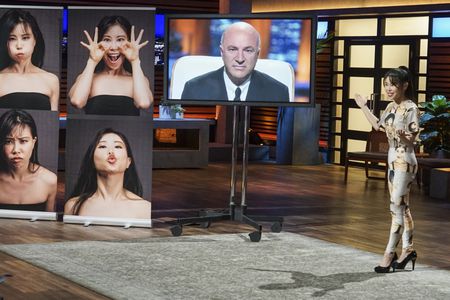 Koko Hyashi seeks a Shark to partner with her for Face Yoga in Shark Tank episode 1102. Face Yoga is a method that keeps your face looking younger and can help with "defects" like an asymmetrical face.  She first discovered the method after a failed plastic surgery on her chin. To fix the damage, she learned Face Yoga which is a popular thing in her native Japan.
She learned the methods taught by a man named Fumiko Takatsu. After mastering the craft, she got a license to practice therapy from the fabled Swiss "Comité International d'Esthétique et de Cosmétologie." After coming to America, she began teaching the facial exercises to LA area celebrities and she was featured in many news stories.
She briefly operated Skin Fit Studio where she conducted classes. Now she does video classes and has an app to teach exercises. She's looking for a Shark to get more focused on growing her business through technology.
Company Information
Video

Face Yoga Shark Tank Recap
Koko enters seeking $200,000 for 20% of her business. She demonstrates some of her exercises and tells the Sharks they can transform their appearance with 3-5 minutes of facial exercises per day. She currently charges $200 per hour for private instruction and wants to expand the business by licensing other instructors.
Koko reveals she has a second business that makes more money than this one. The Sharks like Koko's energy, but they tell her to focus on the more profitable business and they all go out.
Face Yoga Shark Tank Update
The Shark Tank Blog constantly provides updates and follow-ups about entrepreneurs who have appeared on the Shark Tank TV show. Koko is still in business!