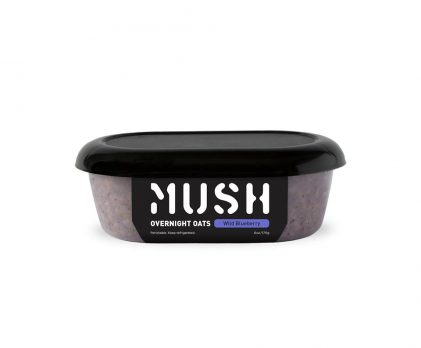 Ashley Thompson and  Katherine Thomas want a Shark to bite on Mush, their convenient twist on a breakfast favorite, in episode 909. The pair created their on-the-go oatmeal snack while working at the same finance firm. They both shared a love for healthy food and a longing to be entrepreneurs. When they created their "cold processed" oatmeal, they left it free of added sugar, artificial flavors & colors, fillers and preservatives.
One thing the two women longed for was a quick, healthy, breakfast/snack. They began experimenting with cold-soaked oats. They utilize pressure to preserve their product, so it's completely natural. Initially, the sold the product at farmer's markets in the San Diego area, but quickly got on the shelves at Whole Foods.
Mush comes in four flavors: vanilla bean, wild blueberry, apple crisp and dark cacao. On the website, 8-packs of eight ounce tubs of Mush cost $39.99 or five bucks per serving. In Whole Foods, an 8 ounce package costs $3.99 and they're discounted at times to as low as 2 packs for $5. The Mush ladies likely want to expand their retail distribution.
Will a Shark want to eat Mush?
Mush Company Information
Video

Posts about Mush on Shark Tank Blog
Mush Shark Tank Recap
Ashley and Katherine enter seeking $300,000 for 10% of their business. Kat explains that she couldn't find good, healthy snacks for herself when she started working. Most yogurts, cereal and protein bars had too much sugar and other "processed garbage." That's why she created MUSH.
The oatmeal isn't cooked, it's cold soaked in almond or coconut milk. It's 100% natural and the oatmeal keeps all its good nutrients since they aren't cooked off. It's ready to eat, dairy free, protein rich and yummy! As they hand out samples, the Sharks indicate they like the taste.
They originally started selling in Farmer's Markets and made $72,000 in sales their first year. In 2017, they nearly doubled to $120,000. Now, they're in Whole Foods and project sales of $900,000 in 2018. At $3.99 retail, they make 70 to 80 cents per unit. Rohan thinks their pricing is "out of whack." Mark disagrees for the convenience and quality they offer.
After explaining about their respective backgrounds, Ashley and Kat start fielding the Sharks' reactions to their pitch. Robert says he doesn't like food businesses, so he goes out. Rohan and Mark start talking over each other and Rohan blurts out an offer for $400,000 for 20%. Lori goes out while telling the MUSH gals Rohan is a "food industry genius."
Mark offers $300,000 for 10% plus an unlimited line of credit. Barbara says the gals are her kind of entrepreneurs and she offers $300,000 for 10% plus an unlimited line of credit. Mark tells them about a successful cookie company he invested in that's doing $8 million in sales. After mulling things over, Ashley and Kat decide to go with Mark.
Mush Shark Tank Update
The Shark Tank Blog constantly provides updates and follow-ups about entrepreneurs who have appeared on the Shark Tank TV show. After airing, they were bombarded with orders and ran out of their packaging. With Mark's help, they found a new source for packaging and set up a new production line in 48 hours.
Now you can find MUSH in Whole Foods and select CVS and 7-11 stores. They're selling nationally now on Amazon too. Sales have grown to over $2 million since airing. The company gets an update segment in season 11, episode 1102. In the update, they told the packaging nightmare story.
Kat stepped away from the role of COO in the spring of 2019 due to complications of Myalgic Encephalomyelitis/Chronic Fatigue Syndrome, an illness she was suffering with but was yet to be diagnosed when she taped the original segment.
In June, 2021, the company secured a $5 million venture investment, bringing their total venture funding (including Mark's money) to $23 million.
As of November 2021, they got on the shelves at Costco. As of September, 2022, the company is on the shelves in over 3800 stores including Publix, Wegmans, ShopRite, Target, the aforementioned Costco and Walmart. At this time, Mush has over $5 million in annual revenue.