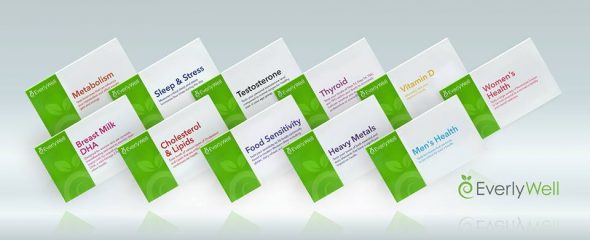 Julia Cheek hopes to increase the health of her business, EverlyWell – a line of at home medical testing kits, in Shark Tank episode 909. Cheek is a high-powered young female entrepreneur with an excellent academic pedigree. She went to Vanderbilt, then graduated in the top five percent at the Harvard Business School where she was also a research scholar. Before founding EverlyWell in 2015, she worked at the George W. Bush Institute as the director of strategy and operations, Moneygram as a VP of Global communications, and as a Venture Partner at NextGen.
She started EverlyWell to give health care consumers a choice when ordering lab work. Typically, when you need a lab test, your doctor sends you to a lab or clinic where they draw blood or take some other type of sample. With EverlyWell, you take the test right at home. Each kit comes with a collection device (they use a dried blood spot, urine sample or saliva sample) and a prepaid shipping box. Take the sample in the comfort of your own home, then ship it off to a physician approved lab. Your results are available to you in a few days via a secure platform for your smart phone.
The company uses the same labs doctors use and their reports can be shared easily with your health care provider. People can pay with HSA/FSA account reimbursements or discuss reimbursement with their insurance company. Since most insurance doesn't cover lab work, they priced their tests at a lower price than most lab work. For instance, a standard cholesterol test is only $79. The company has about 18 different test including three Genomics tests. Prices vary depending on the test, but all prices are competitive.
EverlyWell has sales and grew 20% in their first year. With hurried schedules for many consumers, the convenience of not schlepping off to a lab is a big selling point. Cheek likely wants to expand her retail presence and wants a Shark that can help her get there. Will a Shark think this is a healthy investment?
EverlyWell Company Information
Video

Posts about EverlyWell on Shark Tank Blog
Everly Well Home Health Test Kits
EverlyWell Shark Tank Recap
Julia enters seeking $1 million for 5% of her business and that raises a few eyebrows. She tells the story of how she started her company and explains that lab testing is a $25 billion market. She wants to make getting lab work more convenient for medical consumers.
As she hands out samples, the Sharks' questions start coming. She tells Robert the tests range in price from $69 to $399. When Barbara asks if it's cheaper this way, Julia explains that it depends on a person's insurance. Answering Robert, she explains that her kits are not in insurance networks yet, but she reiterates the main selling point is convenience.
When Rohan inquires about sales, she tells him she's done $2 million since the company launched. She's projecting $4 million next year and $12 million the following year. She has already taken $5 million in funding at a $15 million valuation. There are no other companies offering her service, so she has a competitive advantage, She also reveals a partnership with Helix, which will allow her to do genomics testing, too.
Mark is too concerned about competition, so he goes out. Barbara thinks the business will require a lot of money and she goes out. Robert has similar concerns – he's out too. Rohan admires Julia's vision, but feels his investment would get diluted too quickly, so he's out too.
Lori likes the idea and Julia and offers $1 million line of credit at 8% for a 5% piece of the business. Julia takes the deal immediately, hugs Lori and walks out thrilled.
EverlyWell Shark Tank Update
The Shark Tank Blog constantly provides updates and follow-ups about entrepreneurs who have appeared on the Shark Tank TV show. The deal with Helix closed and EverlyWell is making a push to do more retail sales in drug stores. She's also getting doctors into her network of providers so they can share test results with primary care providers.
The company has an update segment in episode 1118, so we'll know more then. They announced they are in Target and CVS stores and are now offering mail in tests.
In 2020, the company made a COVID-19 Test Home Collection Kit and got a funding round of $175 million which puts a $13 billion valuation.
In March, 2021, the company acquired PWNHealth and Home Access Health Corporation and formed parent company Everly Health. According to the Press Release: "Together, the combined companies support more than 20 million people annually in all 50 U.S. states, Canada, and Puerto Rico." Prior to these acquisitions, the annual revenue was $52 million.